say hi to everyone
Please introduce yourself here to our membership

Chinese tea wrote:In China, we also call it Gaiwan in Pinyin
Thanks. Most of the Chinese people I meet here seem to recognize the gaiwan but have to think for a while before they can come up with a name for it. So far, they have come up with other names but never gaiwan. I guess China is so big that different places may have different names for it.
Chinese tea wrote: from the looking of your Puer tea soup, it is so dark, and seems like a puer tea from wet storage. No offense, just judging. So would you pls tell me your feeling for the Puer tea in the attached picture? Thx
That is actually a
shu
Puer tea, so it is a little like wet storage. It is made by the company called in English
Six Famous Tea Mountain
and is from the year 2004. Here is a better picture so you can read the Chinese printing.
Here is a photo of a piece of the brick and part of the nei fei: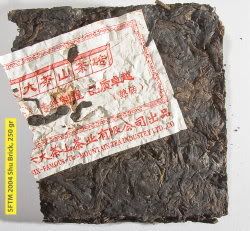 I like the dark
shu
Puer tea sometimes. I usually have to rinse it two or three times to get rid of the bad tastes, but then it can be very pleasant and relaxing.
Posts: 5214
Joined: Dec 21st, '
Location: Gainesville, Florida
---
Hi Sal, Six famous mountain tea factory, actually is a medium scale puer tea-producig factory in Yunnan. Now there are two biggest and best ones in Yunnan. There are Dayi Puer cake and Xiaguan puer Tuo(with shape like a mushroom). People in GZ or in other places in China prefer Dayi or Xiaguan puer tea first, and the price of Puer cakes from these two companies are the most xpensive. It is said that it is Dayi and Xiaguan who caused puer heat and increased retail price of Puer in 2007, which resulted in Puer bubble last year. Of course, there are still some people like puer cake from other brands. All have their own strength and shortcomings. Different people have their own preference. Good to know that you can drink a Shu Puer tea over 3 years old.
Posts: 14
Joined: Mar 9th, '0
Location: China
---
Hello Jennifer....forgive my tardiness in saying welcome to TeaChat!
It is always exciting to have someone from China participate in our tea discussions.
I hope you visit the TeaDay forum.
Click here for TeaDay
There we would love to hear what teas you are drinking each day. It is great TeaFellowship! Please join us.
Mod/Admin
Posts: 22776
Joined: Apr 22nd, '
Location: Back in the TeaCave atop Mt. Fuji
---
Chip wrote:I hope you visit the TeaDay forum. [url=http://www.teachat.com/viewforum.php?f=31
That would be a great chance for us to hear what you are drinking each day ... all the way from China!!
Posts: 5214
Joined: Dec 21st, '
Location: Gainesville, Florida
---
hey! wow! all the way from China? that is pretty cool. My name is Melissa and I am from the LA area. I just started drinking tea... I had to ease into it starting with Iced Tea to hot teas. I love it so much now. I love getting making a nice hot cup of wild berry zinger before I head to work at UMGD. It definitely gives me that long lasting energy I need for the day. Nice to meet you!
Posts: 5
Joined: Mar 20th, '
---
Hi all,

I am so glad that I receive so warm welcome in Teachat. Hope that we can learn from each other, discuss Chinese fine tea and Chinese famous purple sand pots, Jingde porcelain products. I hope you all enjoy Chinese tea everyday.
Posts: 14
Joined: Mar 9th, '0
Location: China
---
---