Recommend an oolong?
Owes its flavors to oxidation levels between green & black tea.

11 posts • Page 1 of 1
I have narrowed down my search and have decided on purchasing the
"Passion Gaiwan"
from the Imperial Tea Court. I'd also like to try a new tea so it would make sense to purchase from the same vendor and save on shipping.
The ONLY loose leaf tea that I have had was the Frozen Summit (tung ting) Oolong and I LOVED it. Seeing as the Imperial Tea Court does not sell this tea I was hoping someone could recommend something along the same lines to me from their selection. What I loved most about the Tung Ting was the smooth almost buttery taste. Here is their
Oolong selection.
Any help would be appreciated! Thanks..
Posts: 24
Joined: Jan 23rd, '
Location: Minnesota
---
A lot of us like the Taiwanese high-mountain oolongs (like tung ting) for the same reason, and that's a characteristic that pretty much defines those teas from Taiwan. Unfortunately it doesn't really look like ITC really has much. The only one I can really recommend is the pouchong. The tie guan yin's
may
suit you, but may also disappoint. Perhaps someone that's bought more from them can chip in, or you could just get some samples. If you want some of the really good Taiwanese high-mountain oolongs you might check out houdeasianart.com and shanshuiteas.com.
Posts: 1084
Joined: Jul 7th, '0
Location: Portland, OR
---
I haven't tried any of these the oolongs at Imperial, but the following look like they might suit you:

High Mountain Green (Fujian)
Jade Tie Guan Yin (Fujian)
Spring Imperial Green (Taiwan)
Winter Pouchong (Taiwan)

The descriptions might help you select, and you could always contact the vendor and ask for a suggestion. The Spring Imperial Green is likely to be the most Tung Ting like, but the others should be fairly similar in their profiles.
Posts: 5214
Joined: Dec 21st, '
Location: Gainesville, Florida
---
I second houdeasianart.com (_never_ had a bad tea from them) and shanshuiteas.com and would add
www.floatingleavestea.com
and
http://stores.ebay.com/Teahome-Premium-Formosa-Tea
(yes, I know, ebay... but it's actually my favorite place to buy tea) If I was to recommend one tea I would say go for the DaYuLing from teahome..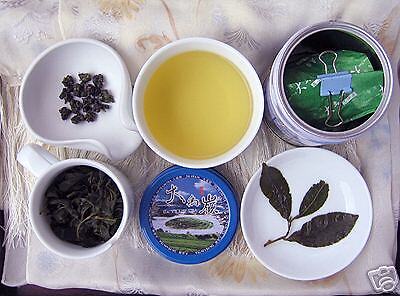 Pay attention to two parameters besides the name of the tea: Oxidation and Roasting. These determine a lot of the characteristics of any tea and are usually mentioned as a percentage, like (10%/25%) or something similar. It sounds like what you liked so much was a relatively green, unroasted oolong (I agree, I love those best).
Last edited by
tenuki
on Jan 31st, '08, 22:12, edited 1 time in total.
Posts: 2341
Joined: Oct 23rd, '
Location: Seattle Area
---
tenuki wrote:DaYuLing from teahome...
... Pay attention to two parameters besides the name of the tea: Oxidation and Roasting.
Good advice, as usual Tenuki. Do you have an opinion of TeaFromTaiwan?
Posts: 5214
Joined: Dec 21st, '
Location: Gainesville, Florida
---
Salsero wrote: Do you have an opinion of TeaFromTaiwan?
My first order from them was what I would call decent but not wow. I am planning on trying them again soon though as I wasn't exactly disappointed and had access to a really fantastic tea from floating leaves at the time so I may have been distracted. Have you ordered from them?
I had an interesting experience recently, accidently ordered DaYuLing from both houde and teahome and had the opportunity to drink them side by side for a whole month. Let's just say to my disappointment the teahome ran out first...

But a word of caution, I absolutely don't care about aroma, I'm a totally taste, mouth feel and aftertaste hound so any tea I recommend has those characteristics.
Posts: 2341
Joined: Oct 23rd, '
Location: Seattle Area
---
I very much enjoyed a Dong Ding from
T-fr-T
but don't have your extensive frame of reference in the light oolongs. I've never been really been thrilled with Hou De's oolongs, they all seem just a little too sweet for me for some reason.
I thought that the prices at
T-fr-T
were high, but after briefly checking out your link to TeaHome, it looks like their prices have either increased in the last year or I just remembered them wrong.
Aroma is generally secondary for me also. Whether it's years that I smoked, lack of natural endowment, or the aging process, I am just not nearly as sensitive to aroma as many (most?) people.
Posts: 5214
Joined: Dec 21st, '
Location: Gainesville, Florida
---
If you like Tung Ting, you obviously lean more towards the lesser oxidized types of
Oolongs (opposite of the wuyi styles), but just to be clear, there a some types like
these that are "unrolled" unlike tung ting/ti kuan yin oolongs. Adagio's own Oolongs #40 is a good example, and though their ti kuan yin is basic, still very good.
Some good places to try some Oolongs are Teaspring, Red Blossom Tea, and Special Teas, in my experience
Some other sites:
Teaspring
(good selection of a wide variety of Oolongs):
-Dan Cong - any of the types of Dan Cong, though my least favorite was the Song Zhong.
-Huang Gin Gui - very nice
-Yong Chun Fo Shou - though I've not tried this one yet, I want to
Red Blossom
(also has a great selection):
Easily stated, just stay out of the Wuyi section in your case, unless you someday discover you like Wuyi-style Oolongs. Some of the Oolongs on this site are incredible, but also incredibly expensive.
It's hard to make any recommendations here, since all of them are great...so I guess it just comes down to pricing and what you can afford to sample, and I do suggest sampling. I'd say their best deal is the Eastern Beauty, which I've seen sold elsewhere for much more money, unless I've just ran into some sites with bad high pricing. And I can recommend the Imperial Mist if you want to try something more high end without paying as much for the Li Shan's, for example (Heaven Mist might be okay, too...haven't tried it). They have a Ti Kuan Yin - Monkey Picked for a very low price compared to what I've normally seen, too...though I'm not sure why this is.
Also, try a milk/silk Oolong is you haven't yet. It's an interesting experience.
Special Teas
:
I'd recommend Special Teas more for sampling than anything else. They have good prices on samples, and a decent selection. I've not been disapointed by them.
A few unique items:
-Hairy Crab Oolong - nice, floral and peach-like
-Zhongshan Baiye - haven't tried it, but I hear it's good. A bit more highly oxidized, I think.
- Himalayan Oolong - this is a new addition and I look forward to trying it. It appears to look like a "fancy" Formosa style oolong (like #40)
And a curveball suggestion,
Silver Tips
has a Darjeeling Oolong, from the Makaibari Estate. I've tried it and liked it very much, and at a modest price.
Anyways...there might be more places to order from that are just as good, but these sites are the ones I personally have experience with (good experiences).
Posts: 64
Joined: Jul 14th, '
Location: Gulfport, MS
---
Thank you for taking the time to share your experience and recomendations with me! I will definitely look into all your suggestions. I am so new to tea that I am not sure what I like and do not like yet. I drank green tea (bags) for years before discovering tung ting. I've yet to try wuyi or many blacks or white.. I think sampling is the best idea right now.

Thanks again!
Posts: 24
Joined: Jan 23rd, '
Location: Minnesota
---
I visited ITC a while back. And, while there, tried three oolongs.

One was the Imperial green oolong. Another was the Jade Ti Guan Yin. And finally, I had their bao zhong.

Suffice to say, all three that I sampled can only fall under the category of "amazing". Highest quality.
Posts: 426
Joined: Jul 22nd, '
---
---
---
11 posts • Page 1 of 1