Where to get Yerba Mate tea (brands?)
Healthy herbs, rooibos, honeybush, decaf tea, and yerba mate.

i've found that it makes me very very tired several hours later, ideal for going to sleep
Posts: 309
Joined: Feb 19th, '
Location: Florida, Minnesota
---
I only tried ecoteas but found this YouTube review:

Yerba Mate Guayaki vs Eco Teas Best Tea Review an…: http://youtu.be/4MUu0gleO44

Also I just use ikeas teapot to brew my mate http://m.ikea.com/us/en/catalog/products/art/90150071/
Posts: 7
Joined: Mar 21st, '
Location: Danbury, CT
---
I need to say this: i'm argentinian and i really dont like most of the yerba tea blends
if you want something traditional i think you have to check the way we drink it. we use the "mate" or "porongo" is like a glass of wood and a metal straw (our "bombilla"). water is around 85ºC and you pour it, drink it, and pour water again.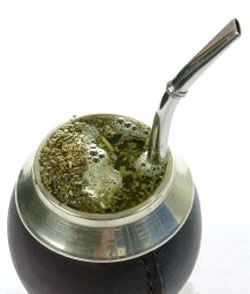 if you want to do a blend, the best is to try with lemon, orange peel or mint leafs. There is people, like my grandma, that use herbs that make you pee or something for health and mix them with the mate. I never try because i'm lazy for that.
mate+citric or mate+mint are the bests for me, but always drinking with mate and bombilla <3
Posts: 3
Joined: Jul 17th, '
---
I went through a Yerba Mate kick awhile back and this was my go to vendor.
http://www.goyerbamate.com/
Rick is a good guy and has pretty good prices. His ultimate bombillia is awesome!
If you want a jolt: get Canarias! Great mate. Lots of tiny fannings, beware if you are not using a FINE strainer.
Regular drinking mate: Cruz de Malta was good. Not a lot of fannings, all around good mate.
Fruity mate?: CBSe is good in some flavors... orange and lemon were probably the best but taste more like the rinds.
Good luck!
Last edited by
Poseidon
on Aug 13th, '14, 16:17, edited 1 time in total.
Posts: 498
Joined: Jul 19th, '
Location: Kentucky
---
Posts: 309
Joined: Feb 19th, '
Location: Florida, Minnesota
---
I remember you just can use some aniseed for extra flavour.

i love cruz de malta <3.
Posts: 3
Joined: Jul 17th, '
---
---