New TeaDay Friday 3/9/12 "My Preciousss"
BYOT! Enter TeaChat here, you never know what you may find!

10 posts • Page 1 of 1
---
Welcome to the New TeaDay.

Today's discussion topic and poll. Carried over from the Lord of the Rings, what is your

"My Precious" Tea

(tea only please!!!)? Please share. Share why it is "precious?"
Gollum holding "my preciousssss"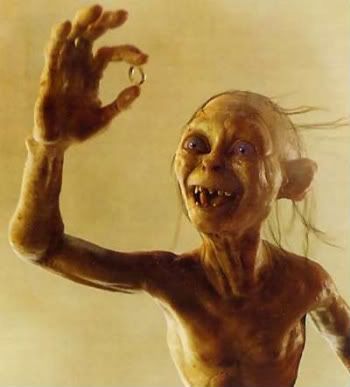 Mod/Admin
Posts: 22777
Joined: Apr 22nd, '
Location: Back in the TeaCave atop Mt. Fuji
---
Mod/Admin
Posts: 22777
Joined: Apr 22nd, '
Location: Back in the TeaCave atop Mt. Fuji
---
ANNOUNCEMENT:

OTTI 12 "Zencha Kagoshima Introduction"

is now "live" with "seats" still available. You can view it here:
http://www.teachat.com/viewtopic.php?f=66&p=217311#p217273
This OTTI (Official Tea Tasting Initiative) features the 6 new Kagoshima sencha leaf teas from Zencha.net. Hope you can join us.
For those not famliar with the OTTI program, samples are mailed to participants ...
Mod/Admin
Posts: 22777
Joined: Apr 22nd, '
Location: Back in the TeaCave atop Mt. Fuji
---
If I could have hoarded this tea I would have, but alas it likely would have faded into something not that great. It was a Korean Oojeon from a company I haven't seen stateside since. I got the tea through a vendor who got a decent bit of it as a sample while attending World Tea Expo in Las Vegas last year.

That reminds me I should ask that vendor if he is going to be carrying their teas this year.
Posts: 2376
Joined: Jul 22nd, '
Location: Capital of the Mitten
---
Tea that i can call "My Preciousss" is powder, green powder... of course matcha!

Especially koicha grade, but for now i have only usucha grade Yame matcha, also quite good, but not as mellow. Recently started to use about 100-110ml water and 2-3 bamboo scoops of matcha, but still mostly i prepare second bowl right away

Vendor Member
Posts: 449
Joined: Jan 7th, '1
Location: Japan, Nagasaki
---
I chose green tea. While I enjoy wuyi oolong, Puerh, jasmine (still - especially jasmine silver needles) and Chinese greens, I love to begin my day with Japanese greens. Sencha Karigane Otsuusan calls to me, although sometimes I veer over to the gyo or another Sencha.

And now I have the Sencha OTTI to look forward to (thanks Chip).
Posts: 1199
Joined: Nov 7th, '0
---
My most 'hoarded' tea that I reserve for special occasions is probably the Hawaiian-grown oolong that I first got in a tea swap with a fellow TeaChatter. It is very pricey, and I had to wait a few months for a new crop to come in before I could first order it, so....precious.
Posts: 5650
Joined: Jan 10th, '
Location: Los Angeles, CA
---
This is another difficult question. My top two are the Mandarin's 3 Stamp SX and ``all of Yamashita's gyokuro''. I actually
crave
the 3 stamp from time to time, so I've had to lay in a supply of it.
The first shincha offerings might be 6 or 7 days away.
Posts: 783
Joined: Nov 7th, '0
Location: Boston Area
---
It took me a while to come up with the answer, specifically.
I received aa amazing gyokuro from a member around 4 years ago. It was so remarkable, truly "precious jade dew." So sweet and pure in flavor.
And it was irreplaceable, he got it from a friend who somehow got it while visiting in Korea. The chain of events was almost as remarkable as the tea.
It was most certainly "precious to me." (LotR ism) And the most amazing part was that this was gifted and regifted several times. Once tasted, I could not imagine being able to give it away.

It was
"the one Gyokuro to rule them all"
... (another LotR ism)
Mod/Admin
Posts: 22777
Joined: Apr 22nd, '
Location: Back in the TeaCave atop Mt. Fuji
---
I hope I haven't had it yet.

But so far the tea which astounded me the most was Lishan oolong, that stuff is magical.
Posts: 124
Joined: Jun 30th, '
---
---
10 posts • Page 1 of 1