I think I did it! (mostly) Bronx-made yixing clay teapot
Discussion on virtually any teaware related item.

13 posts • Page 1 of 1
This time I did all of the steps that the "masters" do in my own awkward way and I'm just filled with joy with the result. I still need to burnish it and do more work on the base... but it looks like a teapot which is more than I can say for my first effort:
OY VEH
let's move on!
My arm got tired from smacking this mofo.
This time I didn't glue the base all the way on, just on the edges. So, I can carve it out later like and intelligent person would.
This is the scary moment when you make it an "egg of clay" and you have no idea what's going on inside ...
The sealed egg... then it's time for more furious tapping. The masters must have big strong arms and very obedient children.

tryinging to get it all in a row.
One big issue is it gets roughed up as one works. I need to do a better job keeping in smooth, clean hands... don't rush...
getting ready to cut out the lid.
Not quite. The masters get it on the first try.
almost perfect...
yeah!
So, issues... yeah, this teapot has some. I'm going to dissect them latter when I go back to burnish it. (I'm exhausted this took 4 hours)
For now, I'm just happy that I did all of the steps.
I think I'll watch the video again just in case I missed something.
Last edited by
futurebird
on Apr 24th, '13, 21:08, edited 2 times in total.
Posts: 719
Joined: Feb 12th, '
Location: South Bronx, NYC
---
Congrats! That is quite an accomplishment.
Posts: 483
Joined: Jan 23rd, '
Location: Philadelphia
---
Thanks evan. I might just fire this one. Though, it has a few issues, it's a little... lopped sided if you look at in in the right way.
I just did the burnishing:
Still a long way to go, but progress feels good.
Posts: 719
Joined: Feb 12th, '
Location: South Bronx, NYC
---
Congratulations, that's very impressive!
Posts: 1462
Joined: Aug 28th, '
---
Yes, that's looking like a pot, even with a bit of personality to it. Excellent progress from your recent beginning.
Posts: 5650
Joined: Jan 10th, '
Location: Los Angeles, CA
---
Posts: 719
Joined: Jan 5th, '1
---
Thats some fast progress!
Looks great
Posts: 309
Joined: Feb 19th, '
Location: Florida, Minnesota
---
Thanks for the encouragement. I'm going to make another later today wish me luck!
Posts: 719
Joined: Feb 12th, '
Location: South Bronx, NYC
---
Looks like you had fun! I'm impressed at your early beginnings - I think many of us take for granted how difficult it is to make 'perfect' looking pots.
futurebird wrote:(I'm exhausted this took 4 hours)

A small tip... most yixing potters tend to make pieces separately, let them dry for a day or two and then fix them together. Maybe that's the way to prevent your fingers from spoiling the surface the of the pot when working with it.
It's a bit harder to wait when you're just making one pot, but when you're making a few in one go, it seems more natural.
Vendor Member
Posts: 160
Joined: Apr 26th, '
Location: Malaysia
---
I think you've really captured the feel of the funky Boogie-Down Bronx! Nice work.

Posts: 1661
Joined: Jul 8th, '0
Location: Maui
---
You are awesome. Keep a'going.
Posts: 14
Joined: Feb 23rd, '
Location: Harrisburg, PA
---
Nice! I can't wait to see pot #2.
Posts: 665
Joined: Mar 10th, '
Location: on top of a mountain.
---
I've made TWO since

But, each had some ... lets say...
issues
. I'll show this one:
Ugh... it's just too rough, and fugly. I think the problems is that I got a little ahead of myself and tried to work much too small too soon. I need to keep working at a larger sizes for now. Since my goal is to make *my personal* ideal teapot -- it's hard not to just focus on what I want. But, I need to remember that the teapot I will keep is not even born yet... it's not even an idea yet.
That said, I've come up with a new way of making handles. Making handles is HARD, since this clay isn't plastic and will crack when bent. I'm having some good luck sculpting the handles from slabs:
This show some bits in my "damp box" I'm trying to make a lot of pieces at once then just assemble them later. That way it is not required to make everything on the spot.
I don't know if it will work, but it's worth a try.
This little workspace is my happy place!
Though, my husband complains about the pounding some of the time.

Can't wait to post the next (passable) pot. The encouragement really helps too. Some days nothing works. But, that's just part of learning. I have become very critical of the work of others:
http://www.ebay.com/itm/Two-Nice-Chines ... 232a5c14c2
I found these on ebay, and started listing the flaws as soon as I saw them.

But, it made me feel better to see that others have struggled with the same things that I do... (lumpy spout, crooked handles, etc.) albiet they struggle
much less
...

I think I'll try to copy this teapot next:
its looks simple (deceptively simple

) and yet I think I understand how to make it.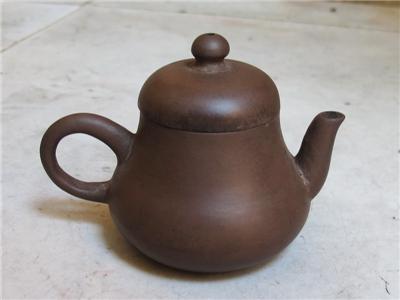 http://www.ebay.com/itm/A-Small-Chinese ... 4ac3fc5b34
(FYI I have no idea if this ebay auction is a good price or even that great of a pot, I'm just using it for a visual reference, not saying it's worth bidding on!)
Back to the drawing board!
Posts: 719
Joined: Feb 12th, '
Location: South Bronx, NYC
---
---
13 posts • Page 1 of 1