NEW! Official Teaware of the Day!
Discussion on virtually any teaware related item.

debunix wrote:Kato Koshin kyusu, from Artistic Nippon. I have been watching his stuff for a while, and this one has such a lovely graceful profile

Pleasing contrast between the smooth and the rough finishes

The transaction was easy & quick too. Very satisfying.
Looks great Debunix!
Posts: 2242
Joined: Jul 22nd, '
---
AdamMY wrote:Looks great Debunix!
+1000! The colours are wonderful

Posts: 96
Joined: Jan 16th, '
Location: Netherlands
---
I think the colors are mostly a reflection of the sky and trees...
Not to say that it isn't an amazing kyusu

Posts: 914
Joined: Mar 4th, '1
Location: somewhere over the rainbow
---
lovely koshin kyusu, debunix. i really like his style.

today i combined my mizuno hiroshi kyusu with one of my shibuya eichi yunomis. the tea is fukamushi super premium from hibiki-an

have a nice day, everyone!

sebpassion



Posts: 82
Joined: Jun 8th, '1
Location: Mainz, Germany
---
I bought these two Petr Novak pot and cup sets some time back but have not made time to share them.
The first is a 120 ml kyusu, glazed inside and out. It pours an extremely smooth/even stream (4 sec. pour). Seeing it for the first time I was drawn to its shape and its subtle layers of unique glazing. Indoors it appears more brown with red highlights. In the sunlight the layers and colors erupt. The pot is medium thickness. I've been wanting to purchase more glazed artisan teaware but it is at times difficult to find less reactive vessels when looking for artisan pots. The three cups are thinner walled and all differ in their pattern and each has its own personality to accompany the pot. I find the kyusu to be unique among Petr's work and have come to enjoy the piece very much.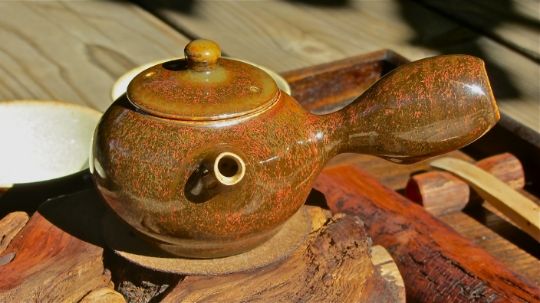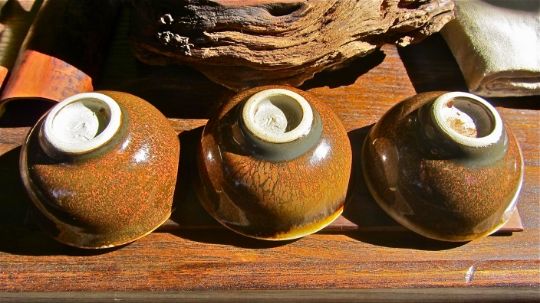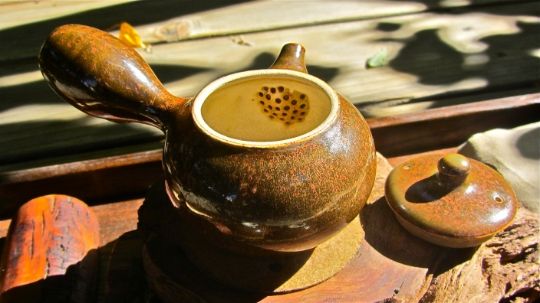 Indoor close up of the glaze: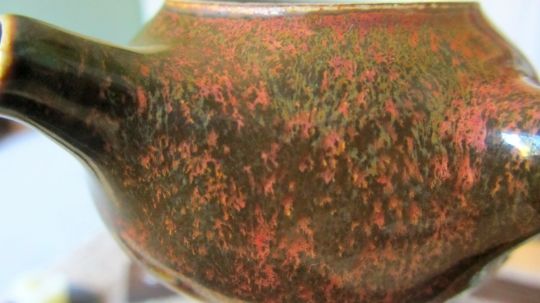 The second piece is medium to thick walled, glazed inside and out, 150ml, and is a very subtle almost 空/簡單 piece; I enjoy it for its simple austerity. It brews tea remarkably well and is the pot I pour most these days, specifically if a friend is coming to sit for tea. The three cups are thicker walled and also understated and yet both the cups and the pot have wonderful crazing throughout the glaze.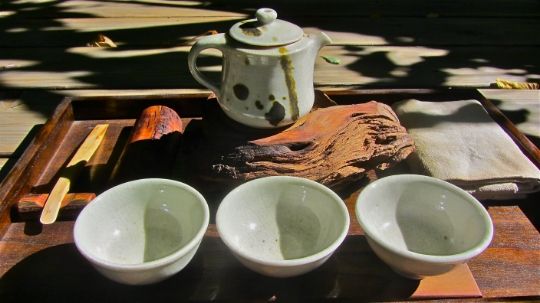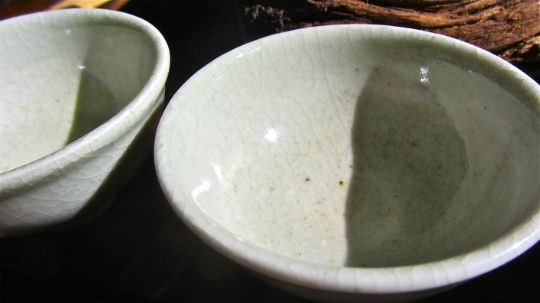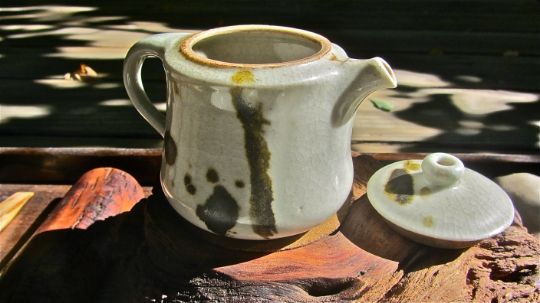 Blessings!
Posts: 225
Joined: May 11th, '
Location: Sacramento, California
---
It is dark and very cold here. Temperatures around 10˚F in the day and well into the negatives at night. Here is today's green tea setup:
Kyusu is from a brand new, recently received Petr Novák tea set. I'll get around to taking/posting pictures of it some time soon.
Posts: 914
Joined: Mar 4th, '1
Location: somewhere over the rainbow
---
---