List of teas according to leaf age/maturity?
For general/other topics related to tea.

5 posts • Page 1 of 1
Odd question maybe, but does there exist anywhere a list or chart that classifies teas not by region or processing methods, but rather by the age of the leaves the tea is made from? Like teas that are generally made from the buds and young leaves vs teas from larger/more mature leaves? This is just something that interests me lately.
I'd appreciate any info you guys have! Thanks

Posts: 131
Joined: Feb 5th, '1
---
The industry term for this is "plucking standard".

Making a list like that would be pretty difficult, because there is no legal requirement; each estate or bought leaf factory decides the standard on its own, based on the tradeoff between quality and price.
Also, tea blenders can modify the standard through various practices, like adding tips and removing stems to make a tea seem to have had a higher plucking standard than it really had.
Assuming that you are using whole or broken leaf tea (instead of CTC, fannings, or tea dust), you can examine the brewed leaves to help guess the plucking standard. Young tea leaves and old tea leaves can be quite different in size.
If you are dealing with tea estates rather than bought leaf factories or tea refiners, they will be more likely to be able to provide precise information on the plucking standard.
Good luck!
Posts: 99
Joined: Oct 14th, '
---
Some vendors, such as Seven Cups, post the plucking standard as part of the description. That information may not translate to other vendors. For example, I just purchased two versions of An Ji Bai Cha with different plucking standards, with the earlier one being more expensive than the later one. A vendor that doesn't list the plucking standard might be selling either version.
Posts: 1198
Joined: Nov 7th, '0
---
Ahhh "plucking standard," good to know. I figured some term must exist for it but did not know what it was. Thanks to you both; you've been very informative

Posts: 131
Joined: Feb 5th, '1
---
You are quite welcome.

If you are dealing with Pu-erh tea, you can also determine the fineness of the pluck sometimes through examining the batch ticket. The third digit in the batch ticket refers to the grade of tea used in the Pu-erh cake; while not an exact match to plucking standard, generally the lower the number, the finer the pluck.
Here is a batch ticket from the collection of Chan Kam Pong, a well-known collector: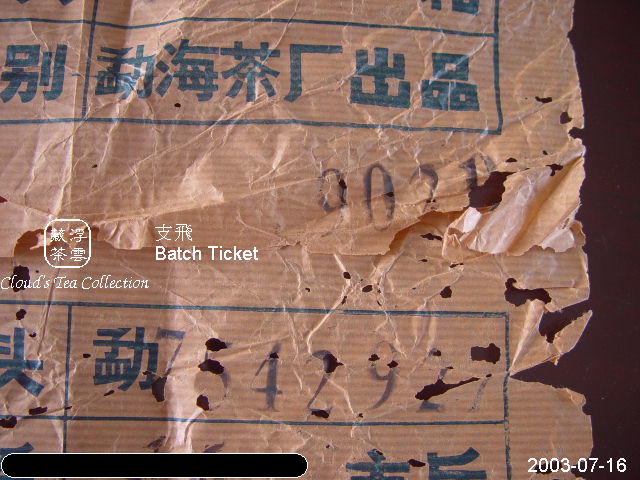 The "4" refers to the grade of tea used.
Posts: 99
Joined: Oct 14th, '
---
---
5 posts • Page 1 of 1