How important is variable temperature?
Discussion on virtually any teaware related item.

11 posts • Page 1 of 1
I have been using a cheap single-cup coffee maker to make hot water. It's very fast and convenient, but I have no control of the temperature. I tested the water with a probe recently, and though it is very hot to the touch, it's still well under the recommended temp for most tea.

So I've been considering getting a variable temp electric kettle. But before I lay my hard-earned money down on one, can someone tell me if the difference is really worth it? Does the tea taste noticeably different when brewed at the optimal temp? Or is the difference so slight that it's not worth the additional cost and effort to change my routine? Because I like the taste of the tea I'm brewing now, but without a reference for comparison I don't know if it can be "better".

And for the record, I am using high-quality leaves and filtered water.
Posts: 48
Joined: Nov 6th, '1
---
I'd say: Not important. Which kinds of tea do you drink?

The only teas for which it is important to control temperature, are green teas, especially those from Japan. Most other teas (Red ("Black"), Oolong, Pu'Er... are infused with boiling or near-boiling water. And high-quality Chinese greens and Whites will take very hot water also if you work with a little care (don't pour directly on the leaves, rather around them, and slowly).
And if you need to control temperature, there are other means. like waiting or pouring the water in other vessels before infusion. Speaking of it, if you want to get better you can learn a lot from trying around a little and getting a feeling for the water without measuring too much. I drink Gyokuro regularly, which is probably the most temperature-sensitive tea, and I don't use my thermometer anymore.
If you drink a lot of it, it will be more convenient, but that is all. If you drink a lot of Japanese greens, invest 5$ in a thermometer, otherwise, forget it, i'd say.

I do know people though who use these kettles.
Posts: 216
Joined: Sep 26th, '
Location: Europe
---
So far, I've mainly been drinking Chinese green and black teas. Sometimes I drink a little white. Don't have a taste for the Japanese greens I've tried. Haven't tried Pu'Er yet. (I also drink a lot of chamomile.)

To control the temperature by the means you mention, I would have to start with very hot water and then cool it down to the correct temp. Using my single-cup coffee maker, the water never reaches high temperatures. It gets hot enough to brew the tea, but never reaches the suggested temps for even white or green tea. I don't remember exactly the temp, I can test it again tonight, but I think it was around 115.
Posts: 48
Joined: Nov 6th, '1
---
Hi,
ah, I see.
If you want to upgrade, you might want to get a decent kettle.
Maybe one that doesen't have too much plastic in contact with the heated water, especially the Black teas might be happy about hotter water. But I really wouldn't spend more on a heater with temp control.
In a year or two, you'll be getting a ginbin (solid silver water kettle) anyways

Posts: 216
Joined: Sep 26th, '
Location: Europe
---
Not if my wife has anything to say about it lol.
This is the model I was considering:
http://www.amazon.com/dp/B0083I7THI/ref=wl_it_dp_o_pC_nS_ttl?_encoding=UTF8&colid=1AO23N3S05606&coliid=I279B284VBMEOZ
.
Cheap, mostly steel, and has variable temp. (My tea brewing station isn't near the kitchen and hence not near a stove, so a conventional non-electric kettle wouldn't be convenient for me.)
But the question remains, will Chinese Green, Black, and White teas taste "that much" better when brewed at their optimal temps, or is my setup that gets the water 115 degrees going to produce nearly the same results?
Posts: 48
Joined: Nov 6th, '1
---
In a certain sense, there are two different questions here. One question is about the need for a variable temp. kettle. The other is a question of the importance of water temperature in brewing tea.
You certainly do not need a variable temp. kettle. For most of my tea brewing life I did not own one. You can simply heat your water with an ear for the music of the boil, using a stove with a stainless, glazed or unglazed ceramic kettle, or a glass kettle. Or, you can use a cheap Aroma, portable, plug-in type kettle that only boils water. So, in this regard you don't need a variable temp. kettle; nor do you really need a thermometer. Though both can be useful.
In regards to water and identifying your heat:
Lu Yu: " Of boiling, when the boiling water is like fish eyes, and there is a slight noise, this is the first boil. When on the edges it is like a surging spring and joined pearls, this is the second boil. When the water is surging and swelling waves (rolling boil) this is the third boil. Anything after this, the water is old and cannot be drunk."

XuBo: "The ancients boiled tea as poems were copied and written about heating the water; each had exquisite skill. Pi Ri Xiu's poem says: "Now and then see crab eyes splash. I see suddenly fish scales (ripples) arise." Su Zi Zhan's poem says: "When crab eyes already passed fish eyes are born, whishing on the verge of making pine winds sound." Su Zi You's poems says: "When the copper cauldron attains fire, earthworms call." Li Nan Jin's poem says: "Crickets chirping, ten thousand cicadas hurrying." Imagining this scenery, a gentle breeze arises (one attains a state of lightness and elation)."
Chen Jian's Ammendments To Lu Yu:"In the degree of boiling water, the commencement is called shrimp eyes; next is called fish eyes. The water boils to the point where one hears as though pine wind's sound, and gradually become no sound. [Note: Shrimp, crab, fish eyes are said to be the internal form of boiling water. When the the water sounds like pines soughing in the winds to the sound gradually slowing, then the degree of fire has arrived! Past this point then the water becomes old (over-boiled).]"
Su Yi Zhuan: "Hot water controls the destiny of tea: if famous tea is added to excessive hot water; then with ordinary, coarse tea there is no difference. Therefore in boiling hot water there is the old (over-boiled) and the tender (under-boiled); in pouring, there is slow and fast; not past either extreme are the limits of tea."

Quality of water and the proper heat absolutely are important. At one phase in my tea drinking I spent about 6 weeks of tea brewing time just drinking and brewing water only (no tea) from different sources (store bought, plastic bottled, glass bottled, natural spring sourced, Sierra creek water, Brita filtered, Shacklee filtered, water stored in iron, gathered and filtered rain water, snow melt water, etc.) in various vessels (different teapots, different cups (glazed/unglazed, etc.))to really discern the difference and effect of various water in combination with different heating and drinking vessels. This was an absolutely important phase of my tea drinking.
I will also have to disagree with miig. While it is possible to brew other teas besides sensitive greens with only boiling or slightly off-boiling water there is a lot one is missing in their tea with such a generalized approach. I listen to each tea differently; I don't brew by which class of tea a tea leaf happens to be categorized in; that is only the starting point. Brewing an wulong tea at 90 degrees Celsius will elicit different outcomes from the same leaf than if brewed at boiling temp. In fact, I don't even brew a single session of tea at the same temperature most of the time. During a session of tea I will vary my temperature in harmony with what the leaves are telling me or to get more rounds or more flavor out of a pour, etc. I might start a pour at 90 degrees Celsius and finish my last round at 98 degrees Celsius. I typically pour my second round cooler than my first because the leaves have been heated and opened. If I am not using a variable temp. kettle or thermometer then I am varying my temp. by how long I let the kettle sit after removing it from the heat source or what height I am pouring my water from, or both.
There are many possible outcomes within the alchemy of tea and one is missing a lot of nuance if they are being cavalier with their water heat in regards to a certain tea. That said, tea and water don't
have
to be given this amount of attention to just
enjoy
a cup of tea. But paying attention to one's kettle/water temp., water quality (source, ph, minerality, etc), brewing vessel, steep times, specific leaf choice and amount, cup choice in combination with a pot (ex. Yixing clay pot poured into glazed cups will yield different results, mouthfeel than Yixing clay pot tea poured into an unglazed earthenware cup, etc.), visual aesthetic harmony, etc. is the beginning of the art of tea and not just tea drinking. For me, participating in this alchemy is not only one way to honor the leaf I drink and the time I take to sit for a pour, but also a way participating in the truths of impermanence and fluctuation inherent in the created order/universe. I don't see an end to the rabbit hole and with greater receptivity, sensitivity, and presence I find my tea times have become spaces that any descriptors fail to fully encapsulate. But again, paradoxically so, it's just tea...and it can be many things for many people. It can be as simple or complex as you want it to be.

In the tea room I use the Bonavita Gooseneck variable temp. kettle. It is convenient, highly adjustable, and reliable. A temp. can be held or adjusted through the ease of pushing a button. This kettle has been discussed throughout the forum. Here is one such spot: (
viewtopic.php?f=36&t=19345&p=254282&hilit=variable+temp+kettle#p254282
).
However I also have two silver kettles, an iron tetsubin, two different clay kettles, and two stove-safe glass kettles, each with their own effect on water/tea. I also have a setup in the tea room to brew over coals that I only in December finished making/gathering together. In Taiwan, while practicing tea with my teacher, we almost always brewed over coals but it is something that needs the right space and time to prepare: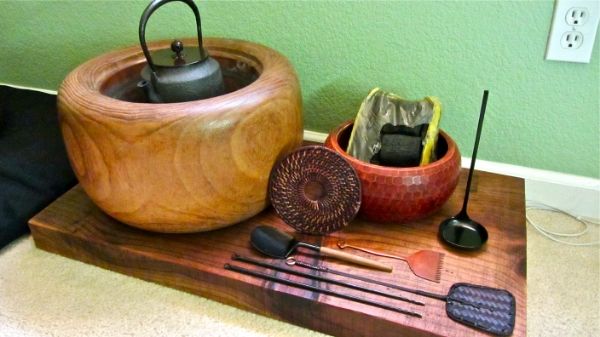 Blessings!
Posts: 503
Joined: May 11th, '
Location: Sacramento, California
---
I don't brew a lot of delicate teas, but I've never found a need for variable temperature - I prefer to use my senses. Also, most electric kettles don't get quite as hot as you'd think, or at least, don't retain heat well.
Posts: 2048
Joined: Jan 11th, '
Location: Los Angeles, CA
---
Ability to vary water temps when brewing tea: very important.

How you get to those varied temps: not important.

I like my variable temp electric kettles for convenience--I require tea to fit into busy days, and this allows me to have tea going 'in the background' of other activities. But I also did ok for a while with kettles that simply boiled water and thermometers and yuzamashi to cool it down; I needed that phase to convince me that temperature changed the vile green teas I'd hated into delicate delicious treats.
Posts: 5650
Joined: Jan 10th, '
Location: Los Angeles, CA
---
It's important to note that the temp settings on kettles don't tend to be accurate. It might say 80c, but it could well be 76c or 82c. This becomes increasingly true as the kettle ages.

The highest temp you need is boiling. You can always cool from there.

M.
Posts: 476
Joined: Mar 25th, '
Location: Lexington Park, Maryland
---
debunix wrote:Ability to vary water temps when brewing tea: very important.

How you get to those varied temps: not important.

I like my variable temp electric kettles for convenience--I require tea to fit into busy days, and this allows me to have tea going 'in the background' of other activities. But I also did ok for a while with kettles that simply boiled water and thermometers and yuzamashi to cool it down; I needed that phase to convince me that temperature changed the vile green teas I'd hated into delicate delicious treats.
+1. It's
really
incorrect to say that all teas except Japanese tea can be successfully brewed off the boil. You'll miss an awful lot of good tea that way. And ruin many.
Learning to get the water temp right doesn't have to be all arcane and elaborate; it comes pretty quickly with practice and there's plenty of advice for every possible tea imaginable in here. Just search 'brew temperature name-of-tea' or the like.
Posts: 180
Joined: Jun 30th, '
Location: Maryland
---
Hi again,
maybe I was not precise enough in what I said, I'm sorry for that. Of course there is a lot of room for improvement playing with the temperature for most teas, and there are as many valid opinions out there as are tea drinkers. I have heard from experienced tea drinkers that Oolong should always be brewed with boiling waters, and lots of equally experienced drinkers don't think that at all. Please don't think that I wanted to create the impression that there was a simple and invariable answer to that question.
I wanted to keep it simple, to say to toasterburn that it isn't necessarry to measure the water temp up to the degree, that he can get far with boiling water for now, and assumed that sooner or later he would out of himself start to vary it more. I said that because sometimes people get so worked up in the technical details that they don't have much attention left for the tea. And I don't know how that was misperceived, but of course I didn't suggest brewing Japanese greens with boiling water! I wanted to express the opposite: Most teas will handle hot water quite well, but NOT Japanese teas. For them it is most important to control the temperature.
To sum it up: There is an infinite potential for variation in almost every detail of tea preparation, and this can be a very rewarding journey. But it is not a necessity: Many things can be kept relatively simple also, and the question is whether someone wants to explore all these nuances or simply drink good tea. As a starter that might be often not the worst idea to focus on tea drinking, the details will follow.
Might, or might not! As always, that is only one impression, one approach and absolutely not 'the way to go'. Just one idea among many, ok

Posts: 216
Joined: Sep 26th, '
Location: Europe
---
---
11 posts • Page 1 of 1