What herbal tea are you drinking today?
Healthy herbs, rooibos, honeybush, decaf tea, and yerba mate.

I had some dandelion tea with milk. I'm surprised how similar it tastes to coffee.
Posts: 4
Joined: Mar 7th, '1
---
Another day, another brew.....even though it's not terribly hot today, I got pretty hot with just a little work out in the yard. So it was time to brew up some concentrated herbal tea, to be diluted with cool water to drink.

Tulsi/holy basil, licorice root, hibiscus, rose hips, cinnamon stick, linden leaf, and lemon grass: sweet, spicy, fruity, just right for an overheated body after a bit of a workout.
Posts: 4976
Joined: Jan 10th, '
Location: Los Angeles, CA
---
Holy Basil sounds like it would make an interesting cup...

I've had Mugwort powder that I use for sweets sitting around for a bit since I haven't made any mochi in awhile and I decided to throw it into some hot water and whisk it about with my chasen. I should have done this a long time ago!
Posts: 24
Joined: Jun 29th, '
---
I'm just getting ready to make my fourth cup of rooibos of the evening to have with my midnight snack. I am quite fond of Celestial Seasonings Madagascar Vanilla Rooibos. It's just as good, if not better, than some of the loose flavored rooibos teas that I have purchased at tea shops around town. Less expensive too.

Posts: 3
Joined: Jul 24th, '
Location: Richmond, Virginia, USA
---
I've only tasted regular ol' roobios honestly. I quite like it, but I don't make it very often. I'm very interested in trying the green stuff and I just got some roobios blend in from Adagio and I'll be seeing how it is in about two weeks.
As for myself at the moment, I am drinking a few infusions of Kenkoucha (健康茶) which means "Health Tea". I bought this in Tokyo on the cheap at a department store (Tokyu Hands) and it features the Kumamon mascot of Kumamoto Prefecture on the tin. The tea itself comes from Minamiaso in said prefecture. I do wish I had picked up TWO since it will be another year until I am back in Nippon. If you like grain tea (sobacha, mugicha, hyeonmi cha, etc) then it is highly recommended. It has those lovely roasted bold flavors mixed in with a persistent sweetness and no bitterness to be found whatsoever - a very clean cup of tea. In the tea you will find a blend of 24 ingredients with things like Barley, Job's Tears, Black Soy Beans, Dokudami, Houjicha, Loquat, horsetail, goji berry, gynostemma, mulberry leaves, among many, many others. Very delicious if you ask me. Here is a picture of the contents: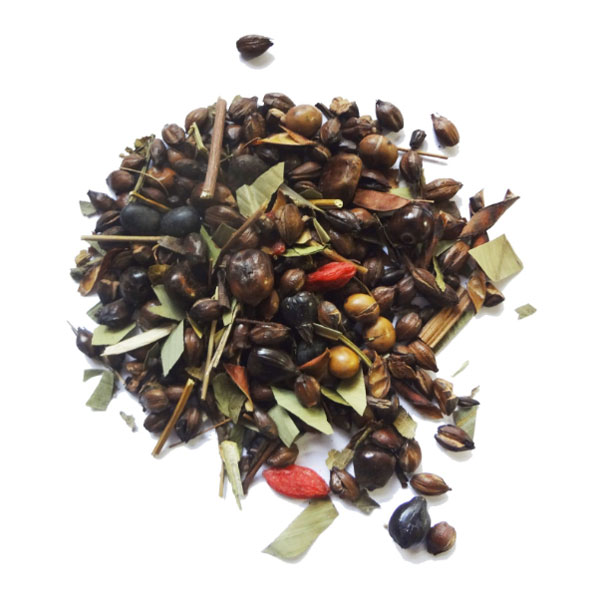 Posts: 24
Joined: Jun 29th, '
---
---