Ode to the Kyusu
Discussion on virtually any teaware related item.

---
blairswhitaker wrote:

Se7en8ight wrote:Thank you Peacock

Good to know... I am assuming these kind of golf ball screens are the hardest to make?

78

they are actually stamped out of clay with a machine, pretty easy to do. it does take some skill to attach them properly. there are a few types of screens used on most japanese pots.

ball screen- like you have above

ceremesh or sesame screen- also stamped in clay, then fitted onto the pot

direct or wall- carved directly into the pot

stainless steel mesh- an actual piece of stainless steel mesh fitted into the pot.

the merits and shortcomings of all these various types have been debated and expound upon in great detail on this forum, a search should provide you with a number of topics.
I'm off to search now, Thanking you very kindly!

Posts: 51
Joined: Jul 17th, '
Location: the Philippines
---
The "golf ball" screens can also be more handmade.

A semi-spherical clay or plaster or wood mold is made . A thin sheet of clay is hand pressed into that. When it stiffens a bit, it is taken out. You then have half a golf ball of thin leatherhard clay. You use a tool that looks like a big hypodermic needle to cut the individual holes in it. The edges of the sherical form are cleaned up, a hole the correct size is cut into the teapot body's wall, then the "golf ball" is inserted and "connected" with a bit of slurry (thin mixture of clay and water).

Sounds easier than it is.

best,

......................john
Posts: 1681
Joined: Sep 15th, '
Location: Wilton, New Hampshire USA
---
I went and did a search and found the poll about screens and stuff... someone mentioned trypophobia

Google has scarred me for life now.

Posts: 51
Joined: Jul 17th, '
Location: the Philippines
---
... yeah, we do like to see the screens! But I actually asked to get a clue of its origin.
Mod/Admin
Posts: 22140
Joined: Apr 22nd, '
Location: Back in the TeaCave atop Mt. Fuji
---
JBaymore wrote:The "golf ball" screens can also be more handmade.

Yeah!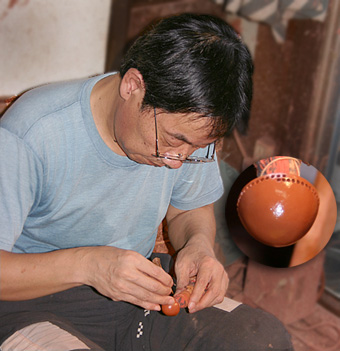 Tokoname craftsman, Setsudo punching holes onto the ceramic filter.
Making the filter needs complete concentration and a calm state of mind.
-Artisticnippon.com
Posts: 1014
Joined: Oct 5th, '0
Location: UK
---
Hi!

I know that I´v uploaded pictures of my kyusu in the official teaware of the day. But i wasent pleased with the result and now I have got me flickr.

Many of you like the more natural looking teawere and I like them to. But this one stole my heart!. I love the flowers because they look like they have been carved out.

I bought it from Ebay so long ago that i cant find the auction any more. Its a Tokoname - Yaki and the artisan made it for me after my order. It pours perfectly and have a steel mesh on the whole inside.

Im itching for a Petr Novák kyusu and some more Szilani cups.
Attachments

My favorit teapot
Kyusu.jpg (32.08 KiB) Viewed 129 times
Posts: 13
Joined: Aug 22nd, '
---
Nothing wrong with a good Tokoname kyusu.

Mine, while not my favourite pot, does seem to be the best pourer and drains completely.
Posts: 174
Joined: Jun 13th, '
---
The combination of painted color and carving is very distinctive and lovely.
Posts: 5056
Joined: Jan 10th, '
Location: Los Angeles, CA
---
Thank you so much!

There is something about diffrent textures on a piece that just draw my eyes.
Posts: 13
Joined: Aug 22nd, '
---
---