Ban Tian Fo: unexpected tea gift!
Owes its flavors to oxidation levels between green & black tea.

7 posts • Page 1 of 1
I rec'd an unexpected gift today in return for sharing my big puck with my dh's co-worker. Ban Tian Fo, which I found out is a Wu Yi oolong. It's not the best Oolong I've had, but it's good. Mine seems to be quite a bit greener and less oxidized than what Teacuppa and HouDe offers. It was a part of her stash that someone from China sent her and I have no idea of it's origin other than that:
Posts: 593
Joined: Apr 21st, '
Location: Indianapolis IN
---
---
---
I will do this today, they are interesting. She gave us two samples that a family member from China sent her. It's a little greener than I usually drink an Oolong, but very mild. She read the entire pkg to "j" so fast he couldn't remember any of it.

"J" showed her my photobucket page with pix to teaware. She saw my tokoname and said her mother had one, not Japanese, used to make TCM - trad chinese med.

Photos coming as soon as I fully wake up!
Posts: 593
Joined: Apr 21st, '
Location: Indianapolis IN
---
Here's the story:
3 g leaf before brewing
4 minutes (after risning 30 sec) in my new brew basket from Whole Foods:
Finished product: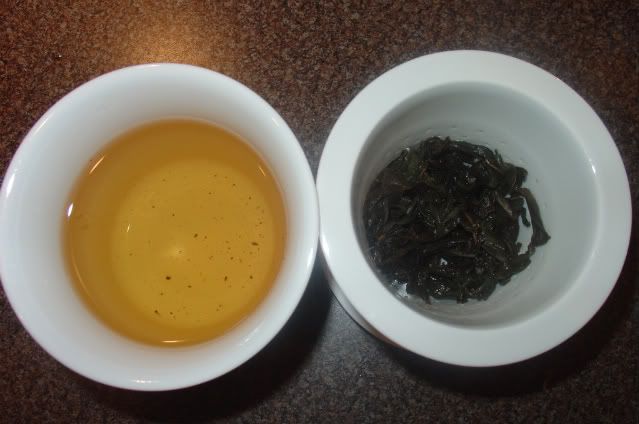 Leaf following 1st brew:
Some are green some are deep reddish. Only a few stems
It is very mild, second full brew lost no flavor after 4.75 min. However, it is giving some sort of aftertaste I am having trouble describing. It's almost a malty flavor, however tastes oily too . . . Does not have much scent at all. I'll have to have another cup or two and think it over. It's not the very best Oolong I've had. I prefer more oxidized Oolong.
Posts: 593
Joined: Apr 21st, '
Location: Indianapolis IN
---
tenuki wrote:Wow, never heard of that. I've heard of Ban Tian Yao, is it similar? How are you brewing it? What does it taste like? Can you show us a picture of the leaves dried and after brewing?
I have several links to Ban tain Yao on Wiki and Teacupa. Those looked more oxidized than this does . . . what do you think?
Maybe I should order some and compare??? If you look at the bag I have, it does say Ban Tian Fo, the rest is in Chinese and I have no idea what it says! Hopefully someone else will be able to help me out here. maybe they are the same?
Compare:
http://en.wikipedia.org/wiki/Ban_Tian_Yao_tea
There is no smokey flavor in my tea. Might be a little old? I dunno
Posts: 593
Joined: Apr 21st, '
Location: Indianapolis IN
---
---
---
7 posts • Page 1 of 1