Tea Fight - another film about tea
Completely off the Topic of Tea

13 posts • Page 1 of 1
Tea Fight

(Tou-cha)
Genre: Comedy, Drama.
Synopsis: Story revolves around a man trying to break his family's long-standing "tea curse" in an action-comedy set in Kyoto.
Origin: Japan, Taiwan.
Language: Japanese, Chinese.
Trailer:
http://www.youtube.com/watch?v=QEXTvATNCwk
IMDB listing:
http://www.imdb.com/title/tt1051267/
Website of the movie:
http://www.tea-fight.com/index_pc.html
I really hope this one makes it to the west... Japanese tea ceremony
plus
gong fu... and it looks like a hoot

P.S. The kanji for the title is 闘茶 (for anyone who wants to Google further).
Posts: 2003
Joined: Apr 6th, '0
Location: British Columbia, Canada
---
Another summary, found on a subsequent Google search:
The film is about the quest for the "Phantom Tea". A tea-house proprietor and his daughter go to Taiwan to seek this legendary tea. The movie is being shot in Japan and Taiwan. It is scheduled to be completed by March and might premiere at Cannes Film Festival in May.
VarietyAsiaOnline says:
it's a love story between two kids from rival tea houses, directed by theater director Wang Ye-ming. And it's possessed of the kind of daunting plot synopsis that tells you everything while leaving you even more confused than when you started:

"In Sung dynasty, a Japanese man named Yagi... couldn't take the badgering from the male black tea tribe and ridiculed that the male black tea was not the best tea in the world; causing the two tribes to challenge each other in a "tea fight." The male black tea tribe massacred the female black tea tribe and burned down the tea farm. A child escaped from the fire and turned into a fire dragon and flew away after drinking a mixture of both male and female black tea. It wasn't until then that the male black tea tribe realized that they had made a big mistake, thus begins the long journey in search of the female black tea."
Well, actually, that's just the legend part of the story (the animated bit). But it does explain why the main characters go to Taiwan.
And from the Nippon Cinema blog of May 2:
The official website for Wang Ye-ming's Taiwan/Japan co-produced movie Tea Fight added a trailer earlier today. The film involves an ancient "tea curse" passed down through generations of the Yagi family. When the wife of a tea shop owner (Teruyuki Kagawa) dies, he believes she was a victim of this curse and decides to shut down his business. His daughter (Erika Toda) takes it upon herself to research the curse on the Internet, and discovers a special tea in Taiwan that can counteract her family's misfortune. Her father follows her, thinking that she's falling into some sort of trap set up by Taiwanese tea makers. Eventually, this all leads to a rematch of a "tea fight" which originally took place nearly 1,000 years ago. Confused? Me too. The trailer won't particularly help matters, but it looks pretty interesting anyway.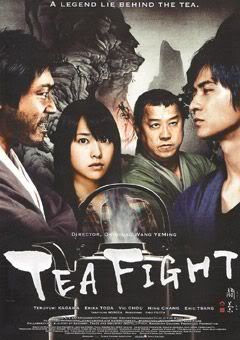 By the way, if this movie has been discussed before, my apologies... I hadn't seen any mentions of it anywhere else.
P.S. Edited because apparently I can't spell the word "summary"

Last edited by
chamekke
on May 11th, '08, 19:44, edited 1 time in total.
Posts: 2003
Joined: Apr 6th, '0
Location: British Columbia, Canada
---
---
---
I'm wondering whether the title is also a tea pun.
Tou 闘 and cha 茶 literally mean "fight" and "tea" in Japanese. Together, however, might they also be a reference to a Chinese tea cake (toucha),
a la
pu ehr?
P.S. This is the only forum I can think of where it makes sense to italicize
a la
and NOT pu ehr

Posts: 2003
Joined: Apr 6th, '0
Location: British Columbia, Canada
---
Posts: 758
Joined: Dec 22nd, '
Location: the uncharted backwaters of the unfashionable end of the western spiral arm of the galaxy
---
Does anyone know when this comes out? I am hoping to visit Japan later this year. I may also ask my friend in Japan to check it out.
Posts: 95
Joined: Sep 14th, '
Location: Orlando, FL
---
Posts: 92
Joined: Dec 28th, '
Location: US
---
It's closing the Taipei film festival at the end of July. Would love to hear if it'll be screening anywhere in the US soon.
Posts: 2048
Joined: Jan 11th, '
Location: Los Angeles, CA
---
I had considered hiring a tea researcher to supplement the 1 hours a day I have for gathering information on tea. But then Chamakke joined teachat and it no longer became nessesary.

This movie idea is just too cool for words, I can hardly wait to see it.
Last edited by
tenuki
on Jun 25th, '08, 12:16, edited 1 time in total.
Posts: 2341
Joined: Oct 23rd, '
Location: Seattle Area
---
Posts: 1644
Joined: Dec 20th, '
---
Has anyone seen this movie yet?
I watched it, but I couldn't find any English versions. It has some nice tea setups, and a very dramatic scene where a main character makes Song dynasty style tea.
I was a bit disappointed, but I can't really say why because it would ruin the ending for those who might like to watch it. Overall, I did like it if only because it was a full length feature film about tea.
chamekke wrote:Tou 闘 and cha 茶 literally mean "fight" and "tea" in Japanese.
Dou cha just means tea competition. These were all the rage in Song (and I think as late as Ming) China. Competitors (usually two I believe) would make tea and see whose was better. If you google the two characters and click on pictures, you will get lots of old paintings which will explain it better than I could.
Posts: 350
Joined: Jul 30th, '
Location: Cambridge, MA
---
You can download English subtitles at:
http://www.sub-titles.net/ppodnapisi/po ... ateTitle/1
Worked Ok along with the downloaded version I had - just name the part of the filename before the extension the same thing as the movie file and put it in the same directory.
I found a (probably bootleg) copy in Rowland Heights last weekend on DVD for about $14. Chinese subtitles but no English ones.
The movie is Ok... worth watching for the tea porn, but you're not missing that much if you watch it without the translation; the plot is kind of dumb.
Posts: 2048
Joined: Jan 11th, '
Location: Los Angeles, CA
---
---
13 posts • Page 1 of 1