Shu Berries
One of the intentionally aged teas, Pu-Erh has a loyal following.

11 posts • Page 1 of 1
Omegapd tested the vast depths of my ignorance this morning asking me if I knew what those little berries are in the 4.4 oz bags of
2004 Fengqing
loose shu we both recently purchased. To wit, his words were:
I emptied out the little baggie it came in into a zip-lock
and was looking at it. Mine has a ton of little berries in it- all
processed like the tea and sticks. Do you know what that is?
I guessed that they are tea seeds or fertile flowers on their way to becoming tea seeds, but it was just a surmise.
Does anyone here actually know with some level of certainty what they are?
Here's a photo of the little buggers: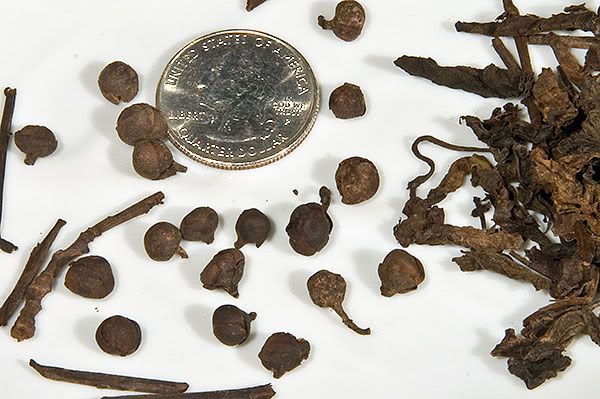 While playing with it to make the picture, it smelled so inviting I made some again. It is better than I remembered. Full of rich coffee-like taste and aroma. Not the opaque tar that is my favorite shu, but very pleasant for an everyday drink ... at 3¢ a gram a good bargain.
Posts: 5214
Joined: Dec 21st, '
Location: Gainesville, Florida
---
They look like tea flower buds to me. I think Wes took pictures of some he found, and the ones I've seen look just like that too. I don't think either of us found them in puerh (though perhaps he has since), but I doubt that's relevant.
Edit: Here's a pic I took. Also, I forget who named them as buds, which I suppose kind of ruins my whole argument, but it sure does look like the beginnings of a flower.
Posts: 1665
Joined: Jan 11th, '
Location: SF Bay Area, CA
---
I am almost positive those are tea blooms. My plants have those things scattered all over them but obviously green, they are just immature tea flowers. I have found one before in a sheng cake of mine.
Posts: 1636
Joined: Feb 15th, '
Location: Pennsylvania
---
I broke one up and took my 20x magnifier to it. Of course these things have been shu-ified which pretty much amounts to a combination of rotting and mummification, so they are not in their original state.

I don't know much of anything about plant anatomy, but there is a hard little piece inside which seems consistent with the idea of a seed, but the little stem attached to some of them looks more like something you would find on a bud. Whatever they started out as, they are shu now!

At least I feel confident that they are not rat droppings. Unlike some of us, I suspect rodents would have the good sense to steer clear of shu puerh.
Posts: 5214
Joined: Dec 21st, '
Location: Gainesville, Florida
---
---
puerhshop wrote: Tea seeds they are indeed, no harm done if mixed with tea leaves.
It also suggests a Fall harvest.
Thanks for setting us right, Jim.
Posts: 5214
Joined: Dec 21st, '
Location: Gainesville, Florida
---
---
I first started finding them in my Lion Xi Hu Long Jing from Teaspring, but I've found a few in some pu-erhs as well. I think the purple leaf bings we bought from Puershop have some. There were a fair few in the long jing, but not so many in the purple leaf. I think some throw them in to change the flavor (I can't tell the difference), and some have them because of indiscriminate picking.
Posts: 1611
Joined: Jun 8th, '0
Location: 3161 A.D.
---
Thanks for asking this Tom. Looks like you found a pile of them too.

That shu is an excellent "beginner's" shu in my book. Cheap, mild, clear, without the overpowering aroma that we have come to love. I'm using it at work since it's something I sorta enjoy but don't need to obsess over.
EW
Posts: 925
Joined: Feb 6th, '0
Location: enjoying a cup of Red Rose down in GA
---
Posts: 1636
Joined: Feb 15th, '
Location: Pennsylvania
---
---
---
11 posts • Page 1 of 1