What strainer to use?
One of the intentionally aged teas, Pu-Erh has a loyal following.

10 posts • Page 1 of 1
There are metal ones and some cloth looking ones.
Which are the best?
Posts: 28
Joined: Oct 29th, '
Location: Houston
---
For puerh I use one of the cheap, tin filters that Scott at YSLLC generally includes along with the purchase of a pot. I have bought a couple other strainers that are fancier or prettier, but they usually don't work as well, either too big/clumsy or clog too easily.
Here's a photo with one of those strainers in the upper left corner. You can click on the picture to enlarge it.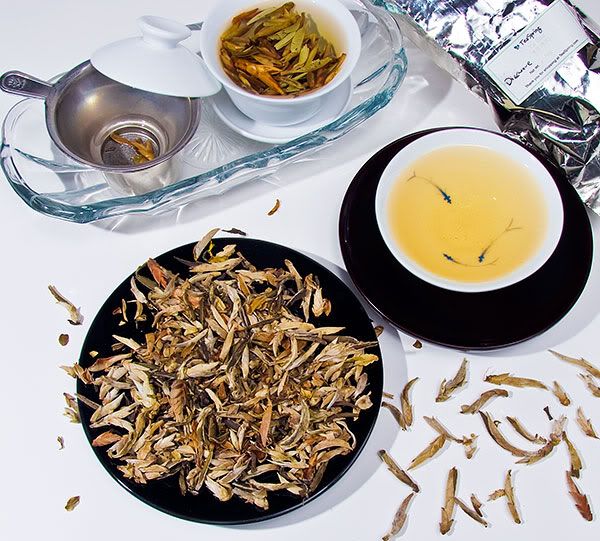 Posts: 5214
Joined: Dec 21st, '
Location: Gainesville, Florida
---
Posts: 1675
Joined: Jun 17th, '
Location: Oregon
---
geeber1 wrote:

Sal, I love how the leaves at the bottom right are the same shape as the fish on your cup. Cool!
Yes, they looked so much like fishies that it made the choice of teaware obscenely easy.
This was the September 15 TeaDay photo of Ya Bao, a very unusual tea from TeaSpring that Dizzwave included in the puerh box pass. In that post I claimed, "
the dry leaves look like little scaly fish, dried shrimp, trout flies, grasshopper exoskeletons, or even tiny rabbits' feet.
"
I did a tiny mini-review of the tea
HERE
.
Posts: 5214
Joined: Dec 21st, '
Location: Gainesville, Florida
---
I use the same filter that Salsero has pictured. Got it free with my yixings. It is simple and effective, dosent clog, rust or do anything to the flavor of the tea.
Posts: 1636
Joined: Feb 15th, '
Location: Pennsylvania
---
---
Unless the little bits really bother you, I vote for no filter.

I only use one if I'm brewing something with lots of little bits. When I do, I use one of the metal ones just because it's the only kind I have, but I think the gourd ones with a little piece of cloth as the filter are less likely to either cool down the tea or affect the flavor.
Posts: 2048
Joined: Jan 11th, '
Location: Los Angeles, CA
---
---
I like the calabash strainer (no metal). I try to heat water, brew and serve with absolutely no metal. Just my own thing. I have drank others tea with aluminum strainer and didnt really notice anything funky. What I have noticed is using a metal vessel to heat water def changes water taste.

J
Posts: 119
Joined: May 6th, '0
Location: NYC, NY
---
---
10 posts • Page 1 of 1