I did leave the ginormous yixing behind and got this instead. If anyone is angry about our souring economy . . .
don't blame Augie
! I realize it may not be from 1975 as there is a lot of "fake aged Pu Ehr" making it's way into the tea market. The tag imbedded into the cake is awfully clean, but the cake looked good to me. I bought it anyway, because it was speaking to me that it needed a home.
inside: Their translator leaves much to be desired. It's hard to determine what they were trying to say here!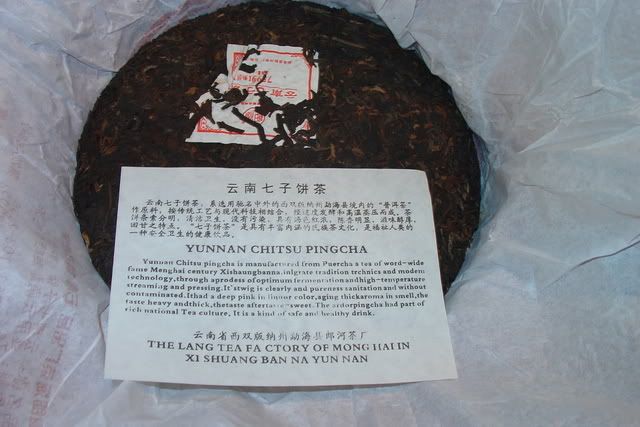 "J" is going to take it to work tomorrow before we start breaking away. I have converted DH from Oolong to Pu Ehr now! Anyway, his group leader is Chinese and he is on friendly terms with 2 others who might be able to translate it for us.
Since "J" started talking tea with his supervisor, his report with her has gotten better . . . One more way tea is a better value as a hobby!
Any honest comments are welcome. If you feel I was grossly ripped off, just say so. I am not at all offended. I bought it with the knowledge that the tea guy may have been ripped off as well. I have every intention of keeping it and brewing it, hopefully for many happy years. Thx in adv.