OK, I took my Puerhshop
American Hao 0802
out for a spin. The one session I had with the
0801
did not inspire me much, but Bears' overall positive
post
gave me some hope.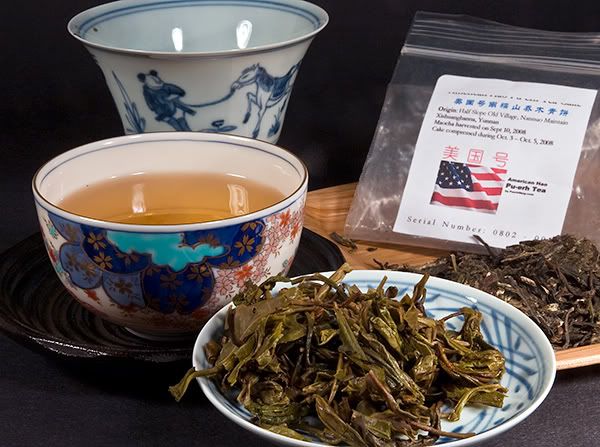 While I agree mostly with Hobbes'
sentiments
about products that invoke nationalist sentiments, I confess to some excitement about the idea of a Western produced puerh ... maybe calling it
Indiana Hao
or
Indianapolis Cha Wang
would have appealed more to me.
Setting all that baggage aside, however, my initial feeling in the first infusion was that it was too light to get my attention, but in subsequent steeps I succumbed to its charms. I found the tea to have a warm pinkish appearance, light flavor, quite good cha qi, some hui gan, especially for something so young. It was overall very smooth, balanced, and nutty, a little timothy ... or is it alfalfa? My experience was nothing like Bears ... maybe I need to use a heavier gaiwan or a pot.
I'll try a couple more rounds with this vendor sample. If I am still enjoying it this much, I will probably order a cake, maybe more for the novelty than the tea, but either way I expect I will enjoy it.