Greetings! I'm a native Austinite, currently living in Houston. With a mother from a small town in southeast Texas, I grew up with a fondness for sweet tea. But unsweetened tea, of any variety, never really appealed to me. Somehow, my boyfriend stumbled upon Adagio and ordered a few sample sets along with an IngenuiTEA. I was hoping for a beverage I'd enjoy without adding sugar, milk, or any other calories. However, with that taste for sweet tea (and Dr Pepper), the teas I'd encountered in the past were too sour for me.
Among the green samples was White Monkey. I found this tea didn't have the bitterness, or even just strength of flavor, of the blacks I'd had in the past, and it avoided the grassiness of so many greens. I had found a pleasant, delicate flavor with a subtle sweetness. With further experimentation, I found what was then Adagio's Spiced Green was wonderful iced. I'd brew it one night and shove it in the fridge. It would come to work with me the next day, replacing the soda I normally drank. But eventually I found my way back to Dr Pepper as my daily non-water drink. It's been a part of my life and a comfort for so long, and the unsweetened green teas just weren't holding me. That was back in 2006.
I'm not sure if I can post images and/or links yet, but if I can: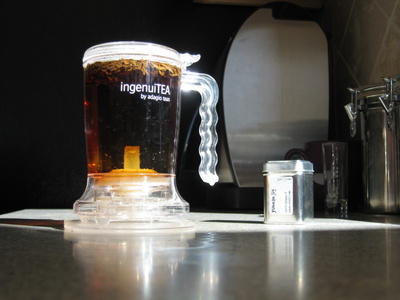 My boyfriend took photos of one of his blacks steeping. If that doesn't work out, plan text link to see the image:
http://macnugget.org/photos/tea/IMG_0478
Some of the other photos have many of the sample tins we had at the time:
http://macnugget.org/photos/tea/IMG_0498
Time passed, and I noticed Adagio had started selling some Chai mixes. I ordered a sampler of that, but had troubles getting it to mix like I wanted. Somehow, I happened upon a sample of one of Adagio's black flavored teas (I think it was one of the freebie toss-ins they sometimes do). I tried it, and it was meh. I added sugar, and that improved it. Then I tossed in a dollop of milk... and it was fantastic. As I talked about this, a coworker recommended trying sweetened condensed milk with the chais to get the richness of chai flavor with the mouth feel of the milkiness. I'm now regularly drinking flavored blacks with a touch of sugar and milk. I also ordered one of adagio's flavored oolongs and a flavored green to try in my next shipment.
I've also started making a sweetened iced tea from Golden Monkey. The flavor profile of the Golden Monkey mixes beautifully with the slightly raw sugar I add, as an iced tea. It's delicious, especially on a hot Texas day.
I'd be interested in learning about other flavored teas or similar I could try. I have a particular fondness for strawberries.