Chinese tea wrote:In China, we also call it Gaiwan in Pinyin
Thanks. Most of the Chinese people I meet here seem to recognize the gaiwan but have to think for a while before they can come up with a name for it. So far, they have come up with other names but never gaiwan. I guess China is so big that different places may have different names for it.
Chinese tea wrote: from the looking of your Puer tea soup, it is so dark, and seems like a puer tea from wet storage. No offense, just judging. So would you pls tell me your feeling for the Puer tea in the attached picture? Thx
That is actually a
shu
Puer tea, so it is a little like wet storage. It is made by the company called in English
Six Famous Tea Mountain
and is from the year 2004. Here is a better picture so you can read the Chinese printing.
Here is a photo of a piece of the brick and part of the nei fei: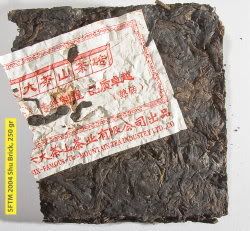 I like the dark
shu
Puer tea sometimes. I usually have to rinse it two or three times to get rid of the bad tastes, but then it can be very pleasant and relaxing.