For some time, I have been thinking I need something a little
butch
in my teaware, and what could say
tough guy
more clearly than a brown wooden tea tray? So I whined and pouted and moped around until I got one.
Using wood, however, required overcoming a lot of baggage, since at my mother's knee I learned that there are three things you never, never mix with water
ELECTRICITY
GOOD SCOTCH
WOOD.
So you can imagine my trepidation about this wooden coaster for my gong fu cups. It is from the Holy Smokes Trading Company.
Having violated one rule, however, it was so easy to cast aside all modesty and plunge like a manic into mayhem, to melt into obsession. An unlikely coupling, me and this coaster? Yes, but a happy one. Sometimes unlikely bedfellows do luxuriate together. I am counting on it.
That's my new acquisition, center stage, under the broad saucer-shaped fish cup. Ain't she purrrrtyy? ... I mean, ain't it
butch
. Makes me want to go out and shoot game.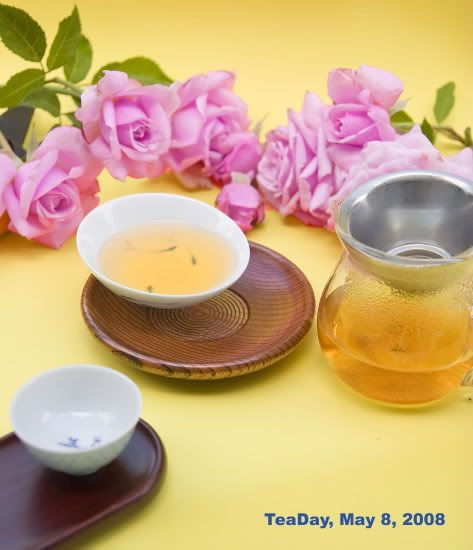 Belinda's Dream is a recently developed rose that is tough and easy to grow. She blooms freely all year long, and is a delight to have as a botanical friend. She can be thorny, but she has made my heart leap with joy many times. The tea is a 2005 Menghai Dayi 7542 Puerh. I've set out an extra little cup in case someone else has the time to join me.
Selaphiel, you have been marked as absent every day you have missed. We expect better performance in the future.
Mitä vittuu sää mulkoilet siinä?