Hagi Special Offer #6 San-Sai Wan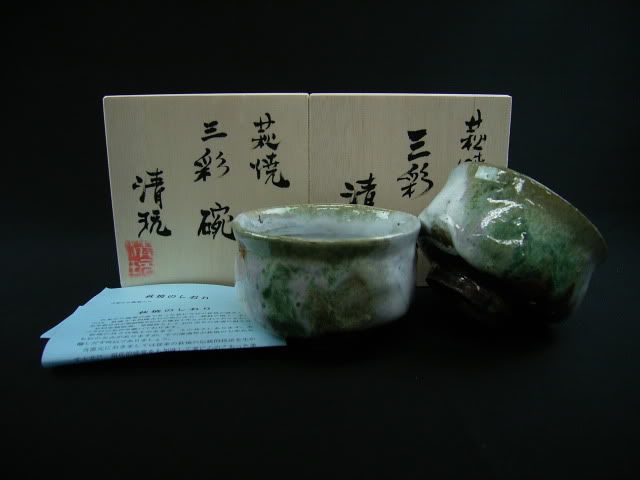 SOLD OUT, SORRY.
I saw San-Sai Guinomi (sake cups) several times and they really turned my head, but I had never seen it in a "Wan" before and thought this would be quite unique. The size is approx 3.6 inches wide X 2.4 – 2.6 inches high. A very functional, multipurpose size!
This is the first of at least several different San Sai pieces I expect we will have as Hagi Special Offers for members of TeaChat.
These were designed and created for us by Hagi master artisan, Yamane Seigan. They are unique and this combination of size, style, and glaze have not been offered previously. They are also a very limited run, NOT mass produced.
The price is $52.50, discounted more than 20% off the suggested resale price of $65-70 if it was even available. Many thanks to Magokorodo for teaming with us to make this unique offering possible. .
San-Sai or Sansai refers to the beautiful tricolor effect of the runny glaze and is sometimes interpreted as rainbow. The white background glazing gives the piece a nice old friend feel. The white interior is naturally perfect for viewing tea.
The clay is a moderately rough sand clay. Oni Hagi San-Sai Wan.
If you are interested, please
PM me immediately
! Ordering info is at the bottom of this PM.
Regarding the Special Wood Box which has the typical Yamane Seigan hand written signature and description on the outside of the lid.
On the inside of the lid, a special designation for this batch. It states to the right in kanji "Kinsei" which I understand means carefully made especially for and under supervision of and reflects a gratitude in which Japanese culture is reflected. To the left, TeaChat in English, and in the romantic Japanese translation in Kanji "Discussion about Tea" And Magokoro in Kanji and English.
The vendor requires all Special Offer ordering be handled by your friendly Moderator

. I expect a lot of interest in these beauties, and they will be gone before you know it! Good news, they are all quite beautiful in Hagi fashion. Any questions, please PM me.
Please select your fave and at least 2 alternates, OR ALLOW ME TO SELECT for you from the remaining pieces. TBH, I am having a very difficult time choosing 1 anyway and will choose 2 if there are 2 available, choosing 2 that differ from each other, there are many that I personally would be very happy with owning. If you want 2, pick at least 3-4 alternates.
If funds are a bit tight this week, payment may be delayed. Please let me know. Mago is closed til at least Wednesday due to a business trip.
Below are 2 "SMALL" pictures of each group. You can find more and "LARGER" photos in my photobucket by clicking:
http://s285.photobucket.com/albums/ll60 ... Sai%20Wan/
SOLD OUT!!!