NOW-Hagi Special Offer #7 Deishi Oni Hagi Shiro Wan, Very Rough Sand/Clay White Straw Ash Glaze.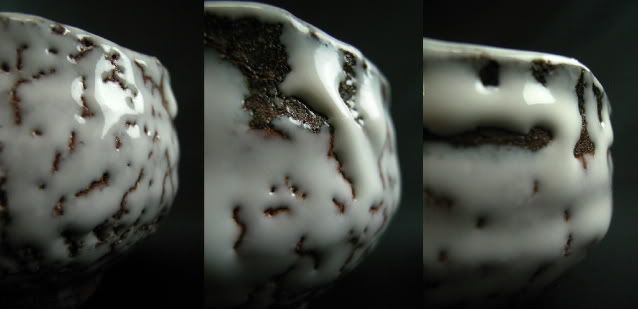 Interesting story. This is the Biwa Wan's "lil white sis," and is also by Shibuya Deishi. It seems that Mago liked the results of the Biwa so much, that he decided to surprise us (I am likely the most surprised) with this beautiful very limited run in white. Thus this Special Offer (SO) comes right on the heels of the San-Sai. The size is great,
3.6" wide X 2.5" High, approx.
The shape is just slightly concave like the Biwa, a very different look.
Same Oni Hagi, very rough sand as the Biwa, but in a Shiro, White Straw Ash, glaze. The results are truly stunning, not at all like the smooth sand/clay versions that are generally available and more mass produced due to their ease in production. I have this piece in the smooth sand version (this was the original inspiration for the Biwa Wan if you recall) and love that piece, but these photos totally blew me away!
I have two photos of each group below, but please check out all the larger photos in my photobucket:
http://s285.photobucket.com/albums/ll60 ... Shiro-Wan/
ALL 20 ARE SOLD! MUST BE TIME FOR THE NEXT SPECIAL OFFER!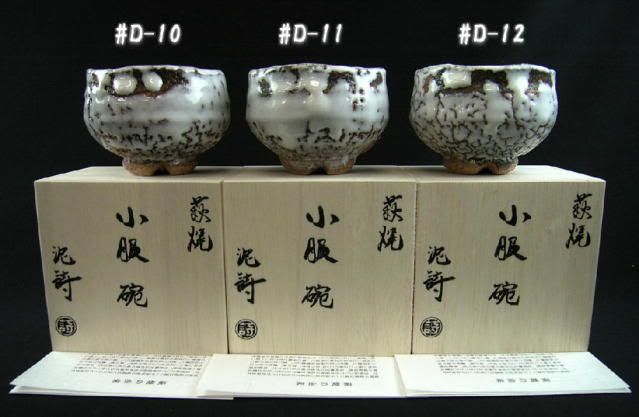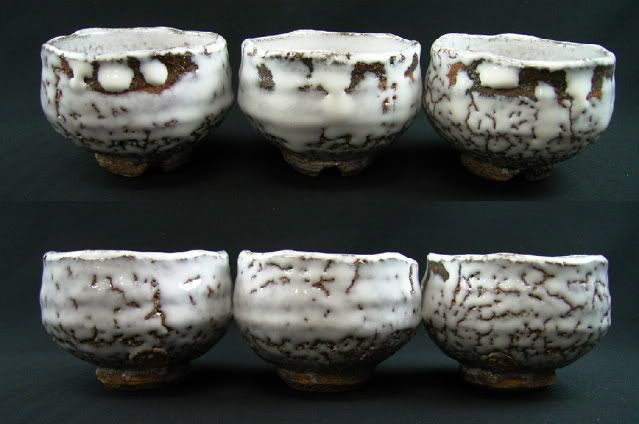 These were created specially for us by Hagi master artisan, Shibuya Deishi. They are very unique and this combination of sand/clay, size, style, and glaze has not been offered previously. This is a very limited run, NOT mass produced.
The price is $56, discounted 20% off the suggested resale price of $69.99 if it was even available. Many thanks to Mago for surprising us with this very unique and beautiful offering.
If you are interested, please
PM me immediately
! Further ordering info is in the next post.
Regarding the Special Wood Box which has the typical Shibuya Deishi signature and description stamp on the outside of the lid.
On the inside of the lid, there is a special designation for this very limited run. It states to the right in kanji "Kinsei" which I understand means carefully made especially for and under supervision of and reflects a gratitude in which Japanese culture is symbolized. To the left, TeaChat in English, and in the romantic Japanese translation in Kanji "Discussion about Tea" And Magokoro in Kanji and English.
The vendor requires all Special Offer ordering be handled by your friendly Moderator

. I am also expecting a lot of interest in these stunning works of functional art, and they will be gone before you know it! Good news, they are all quite beautiful in Hagi fashion. Any questions, please PM me.
Please select your fave and at least 2 or MORE alternates, OR ALLOW ME TO SELECT for you from the remaining pieces. TBH, I think they are all absolutely beautiful.
If funds are a bit tight this week, payment may be delayed til next week. Please let me know. Mago is closed til at least Wednesday 10/14/09 due to a business trip.
You can find more photos in my photobucket by clicking:
http://s285.photobucket.com/albums/ll60 ... Shiro-Wan/