SOLD OUT!!! Gone but not forgotten! Hope to have a "similar" SO soon!!!
Greetings Hagi-Fiends ... er FRIENDS! Here is a very special Hagi offer. I hope you will join us. The offering is strictly limited to 20 pieces and is very beautiful, very specially priced ... and very unique.
I hope you love this one as much as I do! It was created from the ground up for us, completely from scratch!!!
Enjoy,
Chip
--------------------------------------------------------------
"Super Ao ONI-HAGI, Sakazuki Hai," Seigan Blue Super Rough Sand Sencha cup. Special Limited & Custom Edition! Size approx 3.5" w X 2.2" h.
Displayed in groups of 3, there are twenty total in this limited production run. PM me ASAP if interested.
You can also see more and larger photos in my photobucket.
http://s285.photobucket.com/albums/ll60 ... 08%20main/
#10, 11, 12 are SOLD!!!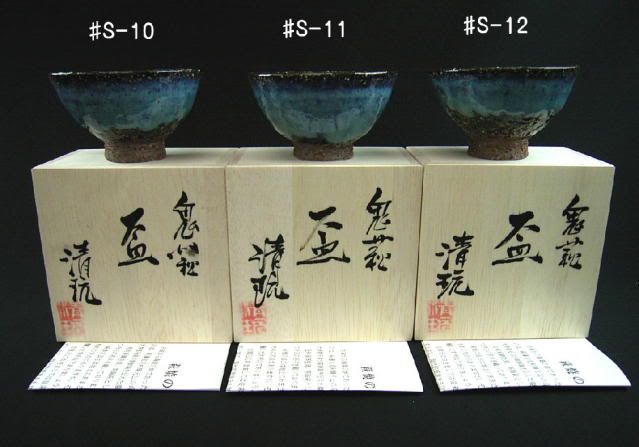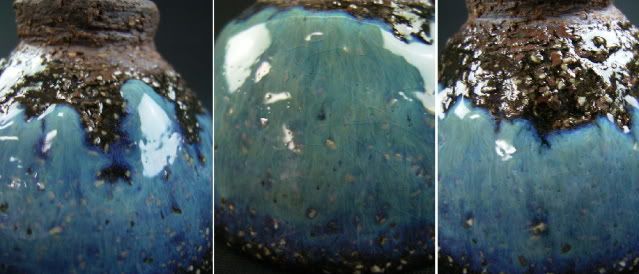 Announcing the new and special designation for certain Special Offers (SO). This is the first of hopefully many "Signature Series" (SS) Hagi. A SS offering is a SO that is limited run that will bear the series of numbers. They will also be pieces created specially for these SOs and have unique qualities that set them apart from more typical offerings found elsewhere.
Limited offering of 20 pieces produced/customized by Yamane Seigan exclusively for this Special Offering #8. These are not listed items that he would produce otherwise, but the combination of design and sizing along with the pedestal koudai (foot) are unique to this offering. Both shape and size are rather atypical of any other Seigan offering. I am excited to share this special piece with my TeaFriends.
To further designate the special nature of this offering (and to enhance their collectible nature), the boxes are individually numbered. Numbering is done in a 1/20, 2/20 format and is hand applied to the inner lid with "sumi." The inner lid will also bear the SO designation stamp unique to our SOs.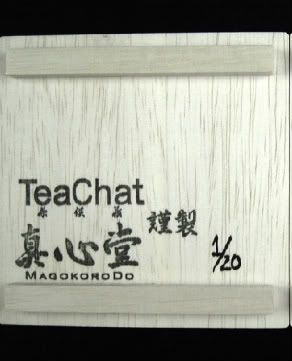 The size, shape, koudai, super rough sand combination along with the extremely limited run make this a difficult piece to produce, but I am awestruck immediately by the results that have been in the making for almost 3 months. I am already envisioning how this shape and pedestal will feel in hand!
I hope you share my excitement!!! Please let me know what you think of this design. Thank you!
Size is approximately 3.5" wide X 2.2" high making them suitable for multi purpose. .
This has also been very specially priced for us at $42, which is 24% off the resale price (if it was available anywhere else) of $55. This was done to show the appreciation to members for our continuing interest in Yamane Seigan's work.
PLEASE PM me asap with your selections. TBH, I think they are all quite beautiful and there is not a bad one in the bunch. Please be sure to include up to 3 alternates in order of preference. If you want to order two pieces (subject to availability), include 5 alternates. Regardless, I will do my best as always to accommodate your highest preferences!
The vendor requires all ordering/questions be directed to your friendly Moderator

(me, in case you are new around here).