Hagi SO #11 Ao Hagi Tebineri Yunomi and Kyusu
Signature Series Limited Edition
Seigan Blue Pinch Teacups and Teapots
EDIT: There are still FOUR Yunomi-s, so a great selection to choose from!
Wow, these are gorgeous! Like uncut sapphires. Stunning to the infinite degree.
Another long awaited SO is Tebineri in Seigan Blue. These are dramatic to say the very least, I think you will agree. Tebineri refers to the way the master artisan pinches a blob of clay versus throwing it on a wheel. The results are always unique and one of a kind.
The sizes run a pretty wide range, but these are NOT Guinomi as is more commonly seen. This is the first time I have actually seen them in actual teacup sizes. The glazing is awesome (running out of superlative adjectives, heh). Hmmm, shimmering like uncut sapphires.
My experience with Tebineri tells me you will love how these feel in hand, so smooth yet textural. You get to know the feel of the cup unlike with a wheeled, smooth cup. Hard to describe until you actually hold one.
Also 5 Tebineri Seigan Blue Kyusu-s. These are not your average looking kyusu, really amazing. Of the dozen or so kyusu I have at my disposal, I have to say my fave is a Tebineri that I simply call da bombe!
These are all numbered Signature Series works (the wood box is hand numbered in Sumi)!!!
Prices are also variable this time around, so to be fair, they are priced individually. Keep in mind, these are very limited and very labor intensive. I have never seen Yunomi in this glaze/form, so I had to look at the few Sansai Tebineri Yunomi I have seen as I researched pricing. Generally the Sansai version has been going for 85-145 USD. Mago and I went back and forth on the pricing of these several times as usual. He has offered a very fair price range for these that I feel is well below resale value and market value as well. I think the prices are extremely reasonable!
And of course, you can combine with other SOs.
You can view all the LARGE photos by following these links.
http://s285.photobucket.com/albums/ll60 ... an%20Blue/
http://s285.photobucket.com/albums/ll60 ... an%20Blue/
]
Size: 3.38 - 4.09 wide X 2.91 - 3.42" high
ST 7 $85 .......................................................... ST 8 sold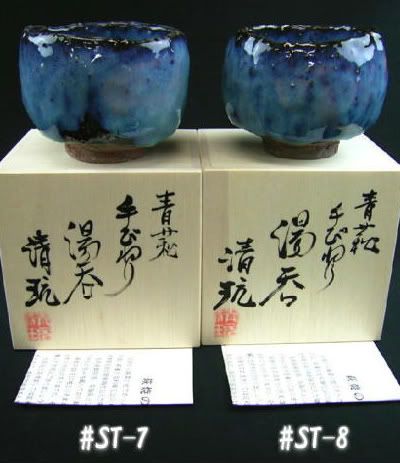 ST 13 sold ........................................................ ST 14 $85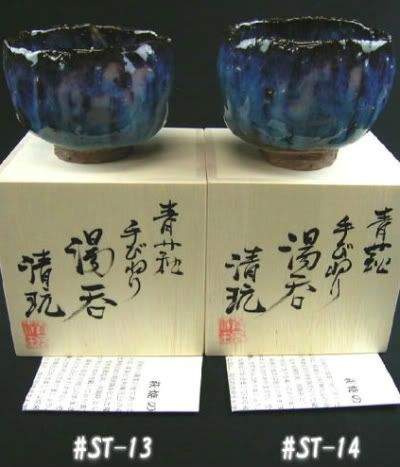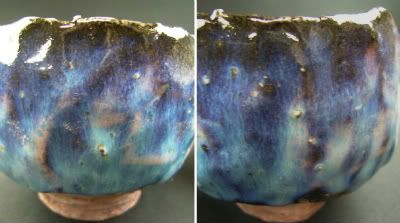 ST 17 sold ................................................. ST 18 $85 each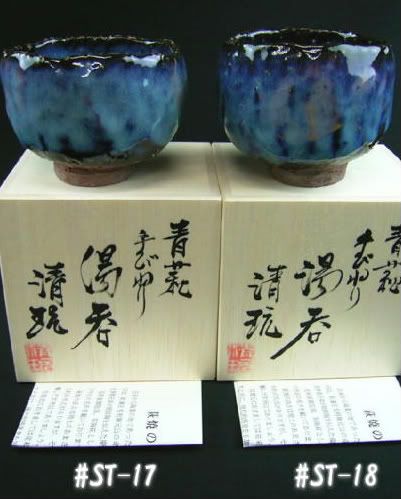 ST 19 sold ........................................................ ST 20 $83