This Hagi SO is sold out! Sorry if you missed out! There will be another one next year.

Which is not far away!
Greetings HagiFriend, and welcome to Hagi SO 14 "SnowDrifts."

This SO will go live on Thursday 12/23/10 at 6 PM Eastern time, though this topic and my photobucket "SnowDrifts" album will be opened a few hours ahead of time due to unforseen family obligations.

So, please wait til 6 pm Eastern USA time to PM your preferences to me. More on ordering info will be in the first reply to this post below.

Hagi SO 14 introduces Eiichi Shibuya to TeaChat and our Hagi SO program. He is the grandson of Deishi Shibuya and is under his tutelage, though his style is fresh and edgy ... young as Eiichi. I have heard his work described as "powerful" by one TCer!

Sometimes I see something new and say instantly, "Hagi SO." Such is the case with Hagi SO 14 "SnowDrifts." The second I saw it, I knew it had to be an SO. So, it was simply a matter of creating a shape and size that is unique and then letting Eiichi do his thing. The shape is slightly tapered where as these are typically cylindrical, a bit of a challenge for Eiichi! They came out very nice indeed!

We asked Eiichi to do a very limited and exclusive run of 20 pieces for TeaChat members. He was happy to oblige.

It is easy to see why this is called "SnowDrifts." The exterior surface resembles snowdrifts. Yet the interior is smooth, like a well groomed toboggan run.

The interior illustrates wheel throwing while the exterior are clearly hand worked, etched, chamfered. The Kuodai (foot) are also hand formed/carved, not wheeled, really nice! Envision viewing this on your table, I suspect it will appear to hover due to the recessed Kuodai.

There are lots and lots of fine crackles in this beautiful white glaze, and I suspect this Hagi SO will really show progression, crackling.

Here are some photos, but be sure to check out all the pieces in my photobucket. There are 5 photos of each group of "SnowDrifts."
http://s285.photobucket.com/albums/ll60 ... %20Drifts/
Sizes are quite variable but within a relatively small range.

Top width: 3.26"-3.46" (8.3cm - 8.8cm).
Lower width: 2.56"-2.63" (6.5cm - 6.7cm).

Height: 3.15"-3.34" (8cm - 8.5cm).

Of course, a signed wooden box is included. On the lid's inside is a special designation stamp, indicating the pieces were made for TeaChat as well as limited run number!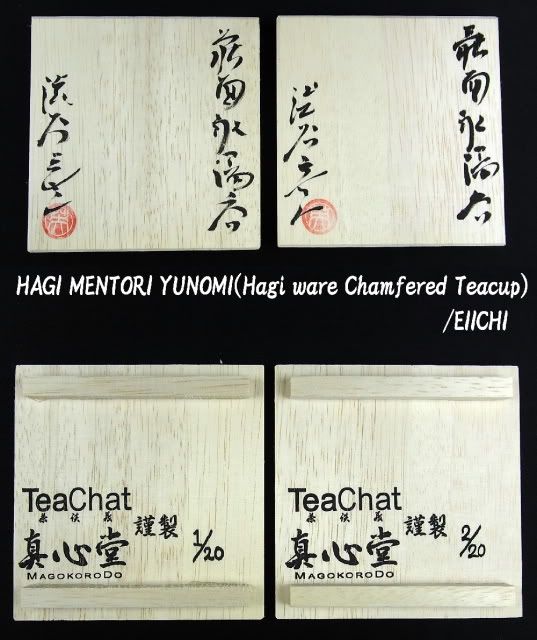 There is clearly a front ...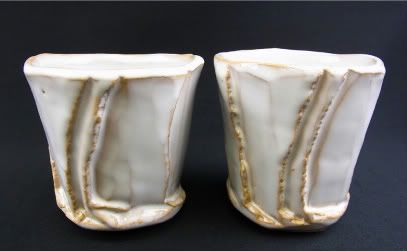 ... and milder sides.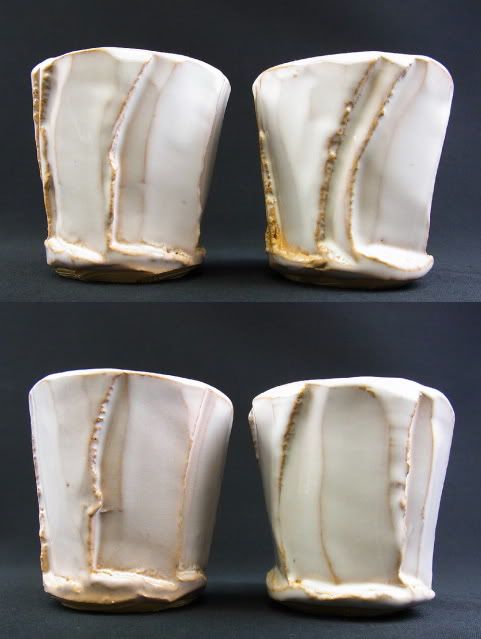 Bottoms up ... this body's bottom helps give an illusion of floating ...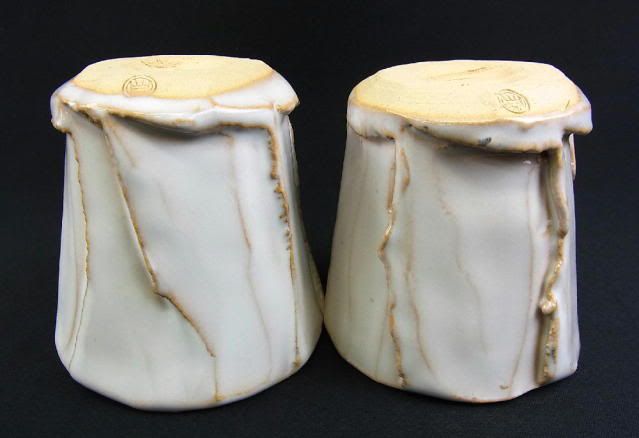 ... when paired with this carved (versus wheeled) kuodai. Oh, the inside is beautiful and strikingly smooth, a nice juxtaposition.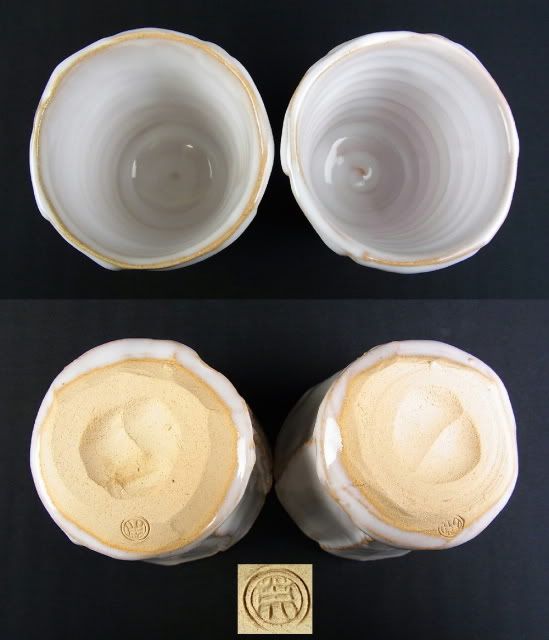 OK, for ordering info, please see the next post!