Welcome members to TeaChat TeawareArtisan SO #3,
Petr Novák Wood Fired Shino Collection
Our TeawareArtisan, Petr Novák from the Czech Republic, has come up with an incredible collection of wood fired pieces that have been created especially for members of TeaChat, for this TA SO.
And these are all at VERY SPECIAL PRICING as well, 20-30% lower than his regular prices! This is an excellent opportunity to score some really great pieces!
Several glazes and effects and teaware types ... here a Shiboridashi set! Beautiful "yohen" (changed by the fire) effect.
All the photos are in four subalbums in the Pter TA SO photobucket album:
http://photobucket.com/tctasopetr
Iron rich sandy clay was used in the making of these pieces for amazing texture, feel, dynamic looks. Most have very cool shino glaze applied sporadically to the exteriors creating a very serendipitous and one of a kind look. Others feature bare clay exteriors for a very natural look. And there are examples of his newer charcoal covered during firing technique.
Cups, cups, cups ... many options available!
You will be able to "match" pots to cups to shiboridashi to yuzamashi to yunomi, etc. very easily ... as you will see!
Of course the debate rages on, "does iron rich clay enhance the brewing of my tea?" Most would say it has a positive effect on their tea. I generally prefer bare clay for brewing many teas. You will notice all the brew vessels have bare clay interiors except one yuzamashi. The cups are mostly glazed, inside and out.
A Yuzamashi, water cooler. Available in 2 styles, glazes ... and this piece was charcoal covered during firing for a great extreme "yohen" effect. Bare clay interior of iron rich clay!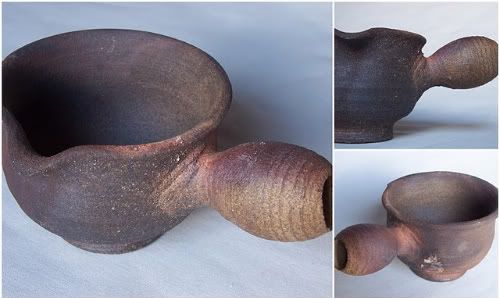 Petr wrote:All pieces are made from high iron, sandy, stoneware. There are two kinds of Shino glaze outside - Both made from Czech materials. First is more shiny and smooth -Second is orange, rougher and in some cases dry shino. All brewing vessels are unglazed inside. Inside of all cups is third glaze - almost clear feldspar on kaolin slip. It wills improve by using it -catching patina and coloring cracks. All pieces were wood fired to 1280-1380°C. In this case the firing took nineteen hours.

If you have any questions feel free to ask here in this topic! I will of course join the discussion on TeaChat when it will be out.
Teapots and kyusu-s ... again 2 glazes, and a charcoal piece. Here is a shino. The hardest part will be to pick your faves from this great grouping. All pots feature bare clay interiors and lots of exposed clay exteriors for enhanced brewing and to show off this beautiful sandy, iron rich clay.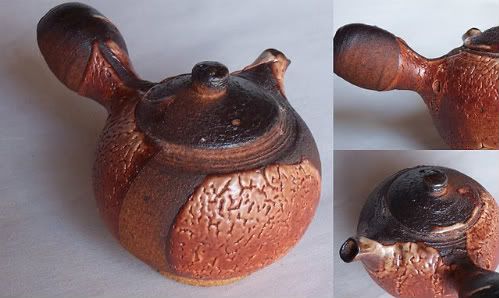 This TA SO collection includes:

Teapots
Teacups (some with his signature saucers, some without)
Yunomi-s
Shiboridashi-s.
Yuzamashi-s
Some pieces are sold individually and some are in sets (as pictured). You may purchase as many or as few items as you want, however for this SO, sets cannot be broken.
I created a post for each general teaware type for ease of viewing and to reduce confusion. Then the last of my string of posts will discuss ordering and shipping.
Coming on the heels of the Hagi SO Sendai (or for whatever reason), you can place items on reserve with a 25% deposit (pre shipping) for up to a couple weeks.
If you have any questions, please post them here or PM me. PLEASE, we do not want to overwhelm Petr with contacts. He will address questions here!!!
Orders for this TA SO must be placed through your friendly Moderator. PLEASE see the last of my posts in this series of posts for all ordering information. You will be asked to submit order preferences, see the ordering post for details!

Petr will not be able to accept your order for TA SO item(s). PLEASE, follow the procedures outlined in this topic in order to prevent delays, problems and errors and to assure you have the best opportunity to secure items you want. Attempting to order TA SO pieces directly from Petr will only delay the placement of your order, which is time critical!!!