Make offer for the following teaware listed at photobucket. All cups were purchased at Sensational Teas. The two teapots were given to me. No reasonable offer refused and price agreed upon EXCLUDES shipping, handling and insurance (if desired). Thanks.
PLEASE PM ME AT
tkokosenski@bellsouth.net
because teachat's messaging software isn't working for me.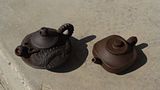 You can go to photobucket to view larger images. Here are the actual urls:
http://i434.photobucket.com/albums/qq61 ... ots001.jpg
http://i434.photobucket.com/albums/qq61 ... ots002.jpg
http://i434.photobucket.com/albums/qq61 ... ots003.jpg
http://i434.photobucket.com/albums/qq61 ... ots004.jpg
http://i434.photobucket.com/albums/qq61 ... are001.jpg
http://i434.photobucket.com/albums/qq61 ... are005.jpg
http://i434.photobucket.com/albums/qq61 ... are006.jpg