Greetings, I have had
A LOT
of these stored in a box for a number of years. They are all in very good to new condition. Most have never been used and the others were only used for a very brief period. Super airtight double lidded.
They are all Forest green with a satin finish and golden trim. Double lidded, high quality, heavy gauge, Japanese canisters.
The ones I have used constantly for 10+ years (I am not selling these) still look brand new, a testament to their quality and durability.
2 sizes:
Small, 3" W X 4 5/8" H, Quantity available: 25 @ $5.50 each, 10 @ $4.50 and 2 @3.50.
Large, 3.25" W X 7" H, Quantity available: 12 $7.50 each
Shipping TBD. Buy a few, or buy a lot!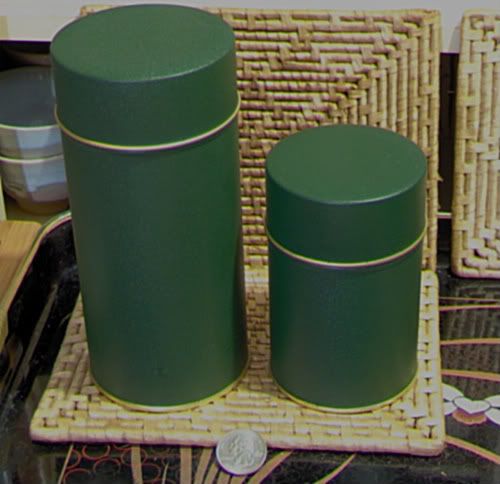 Sorry, USA only. Pay Pal OK.