A question that has come up recently, and a million times before, is how "modern" clay compares to old clay. In this thread I propose to choose two teapots - one old and one modern - that have related/similar clays, and to post pictures and descriptions of your experience with the pots. By modern I mean post Factory 1/after the mid 1990s.
Obviously the comparison must be taken with a grain of salt, because 1) different firing techniques were used in different time periods, and 2) there is no way to know that we are comparing pots at a similar "level" (with an extreme example, comparing a pot by Gu Jinzhou to a $20 modern pot would not be a very fair way of comparing old to modern

).
To start off the discussion, I'll post a comparison between zhuni clays, one is Zhaozhuang zhuni from the Qing dynasty (the taller one), the other is a Xiaomeiyao "golden" zhuni by Xu Yuefeng, student of Jiang Youming.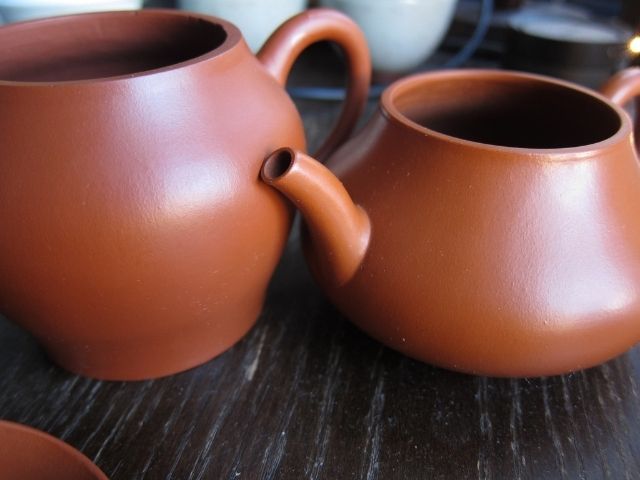 In my experience the old zhuni seems denser, more metal-like, and it is a bit darker. The inside of the modern zhuni seems a little "softer", I think this might be because of the different firing method. In terms of their behavior with the tea, it is not easy to judge because the old zhuni is a bit thicker - the modern pot is very thin walled, but I would say that the old zhuni is slightly more porous. Again it is hard to say whether this is because of the firing or the clay. Also it is important to keep in mind that there are many different kinds of old and modern zhuni.