OK my camera seems to not be here... must have left it at my mom's. So, I will do some decent shots later, but for now, I'll see what I can upload from the iPhone. Don't expect any artistry, I am limited!
I got the houhin and 4 cups... which, to avoid the unlucky thing of 4 cups, I prefer to think of as 2 sets of 2 cups each.

I got 2 sets because I really liked the ones on the right the best in appearance... but the 2 on the left were hand-scratch-signed on the bottom by the artist rather than just a potter's stamp. So, I ended up with 2 sets of 2.
I loved this houhin's shape, the glaze is gorgeous, and there's a heart-shaped swirl on the side. It is even more appealing in person.
Just to show the scale of how tiny the cups are... that is one of my sea cucumber Hagi yunomi for comparison.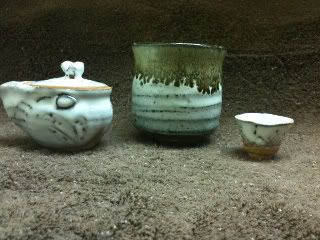 And another example of scale on these tiny cups...
And a closeup of the glaze and the heart swirl, but my iPhone is very limited on closeup focus.
All in all, a really lovely set. I am still marveling over how tiny the cups are. Now I need to order some really good gyokuro... my cheap stuff is pretty blah.
Sarah