Pu of the day: the mostly ill reviewed 2007 imperial concubine.
-I bought this tea because it was inexpensive and had a whimsical name; I guess whatever marketing technique they were using worked on me.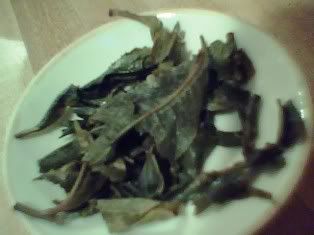 A small sample of the spent leaves. Nothing particularly special about them. They are medium to small in size and obviously not from an older plant.
4.5 grams for a 120 ml gaiwan. I rinsed it for 7 seconds with boiling water, then I took the top off of my kettle and let the water cool for approximately one minuet- each infusion, with the exception of the 4th and 5th brews.
1st brew: 30s- a hint of lemon. Citrus was the predominant tasting note. Astringency was there, but not unbearable or unpleasant.
2nd brew: 15s- might have actually been too long. I might go for 10s next time; quite astringent, bitter, and slightly floral. The tea was tolerable; but not particularly great.
3rd brew: 45s- Best brew by far. It tasted like a sweet and exotic spice, with a tinge of citrus now falling into the background. The tea also had a pretty decent hui gan. The astringency had weakened quite a bit. I thoroughly enjoyed this infusion.
4th brew: 1 min- similar to the 3rd brew, almost a clone- only weaker. Exotic spice was still the predominant note, although the taste was simply not as strong.
5th brew: 1.5 min- Weak vegetable water. Not a bad or offensive brew, but I decided to end the session on this note.
If every brew were exactly like the 3rd infusion- I would stock up on this cake. However, I think one is enough for now. Once you get past the 2nd infusion; it's a pretty decent tea. There was absolutely no smoke, which I like, and limited hui gan. All and all, this tea was pretty good for a young sheng.