I hope you will join us for OTTI #5 "Young Raw Pu-erh"

OOPs, all "seats" taken. Please join us for a future OTTI!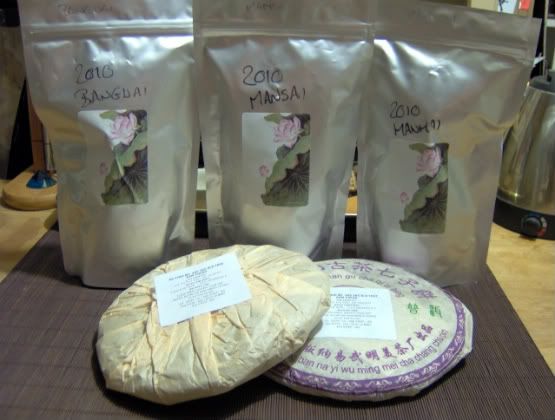 This OTTI promises to be an exciting one!
5 young raw pu-erh (sheng) from 2 member vendors!
This is a first of at least several Pu-erh OTTI which will follow a logical path of new first, 90's second, and older third ... at least this is the current plan.
I have to say, I have so far conducted prelim tastings of 4 out the 5 ... and I am already having daily Pu-erh cravings which I normally only have for sencha!

I am told by more experienced Pu-erh members that this should be an outstanding OTTI line up to start things off. The 2 vendor members are Nada of
http://www.essenceoftea.co.uk/news.html
and TIM from
http://www.themandarinstearoom.com/
A distinguishing feature of all 5 selections is they are all produced from ancient tea trees and are relatively small productions. Please read the descriptions for each tea. Nada's teas are more southern while TIM's are more northern ... something like that.

As we go, I will attempt to offer more information, and others will hopefully enlighten us as well.
Vendor 1 Essense of Tea.
3 2010 vintage selctions. I was quite surprised how amazing these were for their youth!
2010 Bangwai Village
http://www.essenceoftea.co.uk/2010-Bangwai.html2010 Manmai Village
http://www.essenceoftea.co.uk/2010-Manmai.html2010 Mansai Village
http://www.essenceoftea.co.uk/2010-Mansai.htmlVendor 2 The Mandarins Tearoom.
Just received these today, so I will have to add some notes here in the next couple days.
2005 Nannuo Mt.
No product listing for this tea. However here are some links that may be helpful.
http://themandarinstea.blogspot.com/2006/05/kunming-yiwu-nannou-2005-pre-ming.html
2006 Yiwu Mt.
http://www.themandarinstearoom.com/2006-YiWu-Mt-Raw-Puerh-_p_2.html
http://themandarinstea.blogspot.com/2006/05/yiwu-mountain-400-years-old-tree.htmlSo, I hope you can join us for this exceptional young raw pu-erh OTTI. Please PM me asap if you are in! Include your full name, mailing address, and paypal email. (if you do not have paypal, let me know)

Cost for this OTTI is the same as the previous 4.
USA members: $7.00
Canadian Members: 8.50 UDS
European Members: 10.00 USD