So I splurged on some Dragon Well, partly from curiosity, partly to see if there is a world outside of Silver Needle and sencha.
Visually, the Dragon Well leaves appeared lighter than the sencha, and came in whole, tiny, flattened leaves. The sencha looks like factory floor sweepings by comparison (but of course that is not really how they make sencha (is it?)). Dragon Well on the left.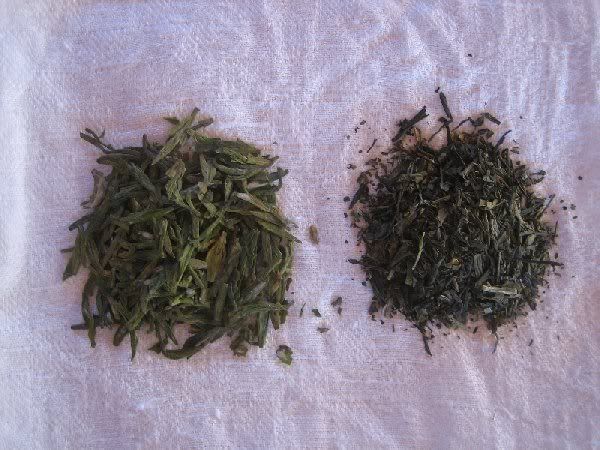 I decided to treat the Dragon Well delicately, like a white, and steeped in water at 80C. After steeping for a minute and a half, it looked pale, more resembling a white than my usual sencha.
The aroma was correspondingly subtle, but heavier, fuller, and more «mature» than the sencha I usually enjoy. The vegetal taste was also more subdued, which I suppose contributed to the feeling of maturity I got. I also think I detected a little more spice in the aftertaste than sencha or white. I got associations to late summer, whereas the sencha makes me think of springtime – a bit surprising, since I understand that Dragon is harvested earlier in the year than sencha.
In the end, I decided to go for a six minute infusion to bring out more bitterness, but no real bitterness came along, which I would consider a good thing. The vegetal flavor just got slightly deeper.
After this long steep, the leaves appeared a very light green, much lighter than my sencha leaves.
This was a very fine experience, both sating my curiosity and giving me an appreciation for what I would consider a less immediately accessible green – but ultimately more satisfying.
Comments are most welcome