I've been reading about tea pets or tea mascots.
There seem to be quite a few:
Spitting frogs
- these are little frogs on top of a melon or rock that are first soaked in water then spit water when heater water is poured over them.
three-legged frogs
- Chan Chu is the "money toad" often he will change color. More info:
http://www.anthropology.uci.edu/~wmmaur ... hanChu.htm
I wonder if the coin in its mouth is meant to move when water is poured over it?
Playing dogs with a ball
- when heated water is poured over them the ball spinns. I think these are "lion dogs" the same kind you see at new years parades.
Pixiu
- This is a creature that loves to eat gold, so it makes sense that often they will change color from brown to gold.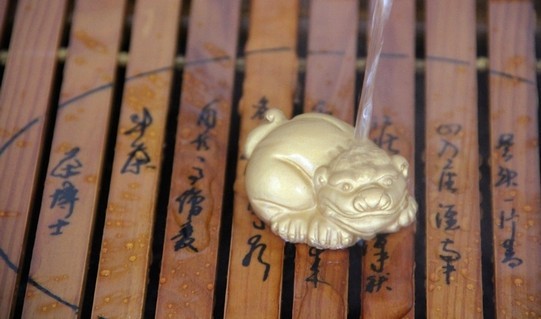 Feet with spiders
- This one has me very confused. What is the meaning of the spider feet? Is it some kind of pun? Is it related to "foot water" the name for go fu waste water?
Seed pod?
- I also cannot identify this one. Is it a seed pod? Will it moved when hot water is added?