Lo que sucedió
Ah, Spring in Minnesota, the season of flowers and sunshine. It was the second day of spring when EvenOdd and Salsero actually met at Sal's brother's home in sunny Minneapolis.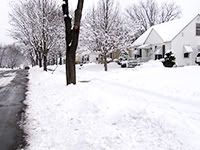 EO braved a snow storm to drive from Iowa up to Minneapolis to attend to some business, to share some tea with Salsero (who was visiting his Eskimo brother), and to gossip about the rest of you!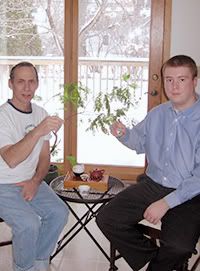 (If we look cold, it's because we are! Poor Sal is trying to keep his hand warm.)
EO fired up the gaiwan for some shu puerh to restore us after cavorting with exotic flora at a local bar and an improv club.
The next day it was DHP in a new YSLLC pot of EO's.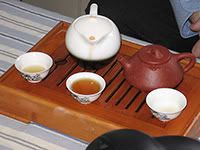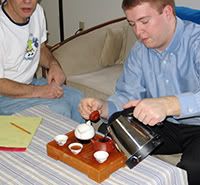 For a while Salsero was good and watched EO brew (please tell me Sal is NOT wearing a Sponge Bob shirt!) Finally, a dazzling display of the bad manners Sal is so well known for.
Pensamientos y conclusiones personales
I had a wonderful time meeting Steven whom I have known electronically for a year and a half. We had Den's Gyokuro Kin, Sencha Fuka-Midori, and powdered sencha, some 2003 Keyixing Yiwu sheng, DHP from TeaSpring, some shu, Dan Cong, and I don't remember what else. EO brought an enormous bag of sheng samples from YSLLC ... but we ran out of time before we ran out of tea!! We sent each other home with a warm exchange of many more samples.
The meeting was very impromptu, planned literally the day before ... and with just whatever tea was on hand. We did brew together, enjoy a little night life, visit TeaSource, and discover a great hole-in-the-wall Indian restaurant. We tried to entice Hop down from the Ivory Tower of his PhD program, but he wasn't able to get away to join us with so little advance notice, but we drank several infusions of puerh to his good health!
It was a very strange experience for me, meeting someone for the first time and yet knowing him quite well and having literally dozens of friends and experiences in common. My brother was amazed to see two
strangers
hit it off so quickly. The nice experience makes me hopeful that more of us will manage to meet and brew together over the coming years.