Since there's been some chat about "roasting your own" lately, I thought I'd share some pics of my home roast. This is a combo of roasted organic pearl barley, organic short-grain rice, and organic wild rice... pan-roasted on the stovetop in a skillet. The total cost of the rice and barley used to make a large cannister of mugicha-genmai was under $4.00 and will last me for a month or more.
To brew, I put about 2 tablespoons of the dry roasted grain in a large decanter, pour about a cup of boiling water over it, and let it cool... then I add cool water and stick it in the fridge. When the liquid level gets low, I add more cool water and let it sit overnight. I can easy get 3 or 4 days worth of infusion from this, and probably more. The flavor just won't quit.
I find the taste very roasty, smooth, no bitterness, and very noticeable sweet finish with no sweetener added... I think this is the starch coming out of the grains. Chip has done some blending with blendable sencha and mugicha and is very happy with the results and I will be trying this. But for these photos, there is no tea leaf in this brew... just the grain.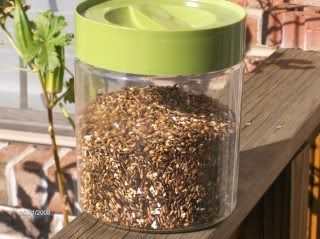 Closeup of the dry mix before brewing (sorry its alittle blurry):
Hope you enjoy,
Sarah