2006 Changtai Banna Tuocha

Reviews posted below in this thread may be kidnapped and placed here into this first post so that people can come and peruse a bunch of reviews in a single page or two.
OTHER RESOURCES
At the outset, let me remind our TeaChatters that there are already several whole threads devoted to samplers that Jim was offering last summer. A number of the items in those sampler bags are still on his site. Here are links:
"Year of Green Puerh"
"Pride of Menghai"
"Best of Puerh Shop"
"Spirit of Yiwu"
"Taste of Mellowness"
So, if the spirit moves anyone at anytime, please contribute your thoughts, however humble.
Fu Zhuan Mongolian Tea
reviewed by
Omegapd
at
http://www.teachat.com/viewtopic.php?t=6744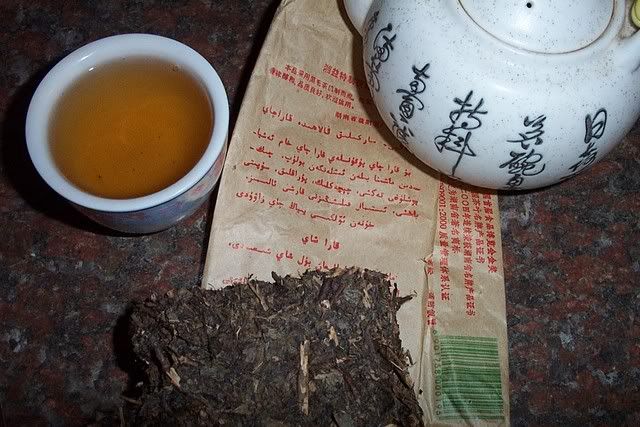 Photo courtesy of Omegapd
2007 Jingmai Mountain Spring Puerh Tea Cake
reviewed by
Salsero
Made by the Kunming Ruipinhao Tea Co.
this cake
is pretty good. The meaty, slightly astringent sweetness of walnuts or pecans. Strong, bold taste, clean, a tendency to be rough on longer infusions, and pretty good either 1) chaqi or 2) caffeine rush, not sure which, but it warms me right up! The actual cake is much prettier than Jim's photo.
2007 Jingmai Mountain Spring Puerh Tea Cake
Reviewed by
Shogun 89
The dry leaves look very nice, intact, large and also with a wonderful smell. I used 20 second brews to unleash a very nice tea. Smell is sweet, slightly smokey and overall just good. The taste has no bitterness, Very well balanced, fruity and sweet. This one reminds me of my Jinggu cake. Drinking as I write so cant say anything about steepability at the moment. Overall a very good tea, especially for drinking now, seems very hard to brew wrong. I will be purchasing a cake. For the price this cake really is great!
2005 Jinggu Arbor
Reviewed by
Shogun89
I used 5 grams of tea in a 120 ml. yixing pot. Water brought to a roaring boil and let sit for 10 seconds. two rinses of 5 seconds each.
First brew was for 15 seconds. Aroma is sweet and floral then turns slightly smokey. This is defiantly an interesting tea, as the aroma foreshadowed there actually is no smokiness in this brew. It starts out sweet with fruit: cherry, apricot. Then it takes on a very slight hay flavor as found in younger sheengs. The hay dissipates quickly revealing a slight amount of astringency, this begins to taste more woody like oak. I could detect a very slight amount of tobacco taste in it.
Second brew was for 20 seconds. The aroma this time contained no smokiness but instead smelled as the first one tasted, fruits and wood, a very sweet calming aroma. The brew is less smooth this time with a faint smokey flavor peering through tastes of hay and wood. The fruit interestingly does not reveal itself in this flavor. overall not as complex and smooth as the first brew.
Third brew was for 15 seconds hoping to alleviate some of the astringency as found in the second. Aroma is mostly woody with some fruit and floral notes. A very heavy and complex aroma. The tea has settled out a lot more compared to the second steep. The flavor is very sweet with the taste of fruit mostly cherry pronouncing itself after a slight woody flavor. No astringency found in this brew. It is sweet and smooth throughout the whole cup.
Conclusion: Over all I was very impressed with this tea. It takes you all over the place with its many complex flavors. It would be hard to see why anybody would dislike this s tea as it its most notes of a young and slightly aged pu erh would. The neat thing is, is how well these different flavors blended together to actually compliment each other as. This tea is defiantly my favorite sheeng and can be purchased for about $22. All and all a very good tea for the price.
2006 Douji Yiwu Mtn Arbor
Reviewed by
Brandon
Dry leaves are darkening, perhaps "army green" with flecks of tan -- camouflage. Soup is amber and viscous, about what you would expect. Leaning towards an orange. A bit of mouth feel, a bit of energy, good balance here. The taste is bold, with nothing unpleasant to note. The sweetness is a little more than some of its classmates.
If you carefully pick apart the leaves, you will find a good number of stems. Not sure if this is good or bad. This seems to be an ok buy at $34 for an 06 beeng. Has me more eager to try to two Douji minibrick offerings rather than buying more of this cake.
2006 Douji Yiwu Mtn Arbor
Reviewed by
Salsero
First infusion, nice aroma, nice flavor, sweet and soft. Develops as nutty by 5th infusion. Seems quite young in that it continually threatens to be rough and unpleasant. One has to think it will be better in a few years. Nice aftertaste. This might be a good one to buy and put down. I went 14 infusions over two days from 13 seconds to 4 minutes.
2004 Huali Premium Ripe Puerh Tea Brick
Reviewed by
Salsero
At $13.00 for a 250 gram brick of 2004 shu,
this offering
seems like a good deal. I found no off flavors, with a clean, coffee or grain taste, sometimes striking me as more malty.
2006 Golden Sail Brand Loose Leaf Puerh Tea
Reviewed by
Salsero
Omegapd sent me some of this
SHU
. Jim's description says it is the best value at Puerhshop, and I agree. It is a first class, solid shu puerh. I found it very relaxing. The broth was not terribly thick or strong, but very attractive as it cooled in the cup. I felt a little cheated because I could see the bottom of my cup, but the taste, aroma, and texture are very fine. At 2¢ a gram, I like it more than some of the most expensive shu I have had.
'07 Xiauguan Bao Yan (Tibetan Flame) brick
Reviewed by
Tony Shlongini
$4.99 per 250g brick, PuerhShop
Astringency - enough to provide backbone, but not excessive
Smoke - none to barely perceptible
Dryness-(mouth) - none
Mouthfeel - medium to heavy
Hui gan - solid
Flavor - simple and solid
Overall value - beyond excellent
Purchase again - absolutley, perfect cellaring material
Simple folks need wine with their meals every bit as much as the high rollers dining at Taillevent, and they are fortunate that there are areas in Italy, Spain, and the Languedoc-Roussillon in France producing a sea of quaffable, inexpensive wine for daily consumption. Similarly, the poor need a cup of tea as much as anyone, and they shouldn't be denied their pleasure for lack of funds. The Xiaguan brick has been around for a long time serving the needs of tea drinkers in remote areas. There's a reason that this is a staple of the poor. It's not bad.
2007 Xiaguan Tibetan Flame
Reviewed by
Shogun89
Astringency- some
Smoke- light
Dryness- little, on tip of tongue
Mouthfeel- Light
Hui gan- some
Flavor- pretty good
Overall value- good/great
Purchase again- yes
While this tea is certainly not fantastic it does the job of giving you a tasty hot beverage. The brick itself is absolutely ugly. The wet leaves are ugly. The liquor is a very dark caramel color which is strange for 2007. The bottom line is, it is a very good tea for the price. I find nothing about it offensive. It can be drunk now but would benefit greatly with aging. I have 2 bricks and will probably get another 1-2. I defiantly recommend this because it is so cheap. $5 for 250 grams is nearly nothing. So on your next order throw a few bricks in, I dont think you will be disappointed.
2007 Yunnian Tea "Premium Alliance"
Yun Nan Yuen Nian Tea Co
Reviewed by
Salsero
Jim expects to get a couple Yunnian Cakes in January 2009, but not his one.
The leaves are stunning to look at and pry apart very easily. Long, whole leaves almost like Hou De's famous Spaghetti tea, 2005 Ming Yuan Hao Yiwu Wild Old Tree Cake. Initial aroma in cup reminds me of banana. Hi notes are rich and earthy for a young sheng, but seems to lack mid and low notes. Color of 1st infusion in cup is a somewhat darkened yellow, darker than most young sheng. A little oily on lips.
2nd infusion more of the same with a bit more depth to the flavor and maybe more oily on the lips, some aftertaste. The first infusion made me hot, BTW… qi?
Third infusion a clear medium yellow. Taste seems to be dissipating… a little watery tasting.
I could have kept going after infusion #11, but it is late. The last half of the infusions were very similar and maybe better than the first infusions. The oily feel on the lips was more dominant and the taste consistent, with a bit more fullness to it. Corny photo of it:
2007 Yunnian Tea Co "Premium Alliance" cake, sheng
Reviewed by
Shogun89
5 grams-130 ml. yixing
15 sec. wash
15 sec 1st steep.
Astringency- medium/lots
smoke- none
Dryness-little
Mouthfeel- good
Hui gan- some
Flavor- good+
overall value - I'd pay $20-25/357g.
Purchase - for $25, yes
I got this sample out of the pu pass so I dont know a whole lot about it. Nice whole leaves, wonderful smell dry and wet. Astringency is fairly heavy so I think this would be a great candidate for aging. Hui gan should develop nicely with time as should the mouth feel which is still a bit tingly at this point. Don't know the price but I'd be willing to pay 20-25 for it but thats just because I'm on a budget. For some $45 might be a good deal. So all in all a very good tea, that will improve greatly with further aging.
Douji Dadou and Shandao
Reviewed by
Edkrueger
Competition Style Review
These first reviews were not don't in the full Gong Fu style, so their results are not really comparable with my Gong Fu reviews. Mouthfeel and aftertaste would be impossible to rank in competition style, because of the mixing. However, I think I got better information on the tastes here.
Dadou:
Color: Medium/light amber
70 Aroma: Very slight, smooth, brighter tropical.
75 Taste: Light, little astringency, tobacco, creamy
145/200 Total
Shandao:
Color: Medium amber
80 Aroma: Slightly heavier, a stronger mellower fruitiness.
80 Taste: Darker, similar astringency, woody, melony.
I will post a Gong Fu Review of these later.
Mengku Arbor Pu-erh Tea Cake
Mengku Old County QZ Tea Co.
Reviewed by
Salsero
I brewed up a pot, 5 gr, 120 ml, 15 s, 20 s, 1 m, 2 m, 1 m, 1 m, 90 s and that's where I am now.
The exterior leaves are dark and look quite nice, rather large and unbroken. The interior leaves also look pretty good, but I did find a layer of tea dust, but not much and I have had excellent tea with the dusty, dirt-looking stuff, so that doesn't concern me.
In sniffing the first infusion, I sense a slight aroma of rubber or something similar that carries over into the extremely light initial taste and transforms into a light tobacco taste, white fruits, very slight sweetness and smoke. 4th infusion spicy and still some smoke and tobacco. The 5th and 6th infusions were still showing some rather odd tastes, like fishy, alternating with some very pleasant sensations, like leather.
Strange Brew
, as the sixties rock group
Cream
put it.
It's not bad and some of its less pleasant characteristics might be just what will make it age well ... or not. It is an interesting tea, very individual. As personal preference, I was more excited by the 2007
Bulang Spring Buds
(not the
tips
) and the 2007
Jingmai Mountain Spring
at about the same price, but I don't regret having this quirky cake and will enjoy following its development, which
might
be the road to greatness.
Menghai 2007 Dayi "Yin Xiang" Shu Bing
Reviewed by
BearsBearsBears
http://puerh.blogspot.com/2008/12/mengh ... -bing.html
2007 Purple Leaf Puerh
Mengku Shuangjiang Factory
Reviewed by
Salsero
Puershop
2007 Purple Leaf Puerh
from Mengku ZFH Tea Factory (apparently
not
the well-known Mengku Shuangjiang Company).
This cake was $11.70 when I bought it early this year and it is now at $15.00. I really have enjoyed the few sessions I have had with it. Very drinkable now, moderate compression, creamy wood taste, enough body to be interesting, and pretty good aftertaste. Pungent aromatics that are almost floral at times. I have enjoyed it more brewed a bit stronger than my normal. This is a cake that is well worth having around, but I worry a bit that its lack of astringency or other nastiness means it won't age too well, although I think it may have improved in the ten months that I have had it in the pumidor.
Silverneedles posted a couple Puerhshop reviews of
1)
2005 Golden Sail loose shu
2)
2006 339 Changtai sheng
2008 Premium Bingdao Arbor
Reviewed by
Tenuki
LINK
Man, that is one tightly compressed brick. The word 'rock' comes to mind, geese. I almost injured myself several times trying to break up the sample a bit more.
I brewed it in a gaiwan, boiling water, 10 second rinse and then let the hot leaves sit with the lid on for 3 minutes or so to try to get the compression to relax, which was sucessful.
1st infusion: It's a green puerh, that's for sure. Decent mouth feel, thick and smooth with no drying, which is not common for green puerh and me. Almost no huiguan

, maybe just a echo, but the echo is very persistent which is a good thing. hardly any smoke, not much bitterness. no off tastes at all. Not much flavor on the sides or back of the tounge, mostly center and front. Almost nothing in the throat and very little in the nose. Not sure about the complexity or richness. this reminds me of a gentler version of my 2005 dayi 250g toucha (which I absolutely love). Qi for me is a warm flush not unlike a good brandy. color of the soup is a strong yellow/green for something so young.
2nd: very quick infusion. some of the thick/smooth mouth feel has been replaced by a slight metallic/hot stone taste (not unpleasant) and a touch of drying. I'm less impressed by this infusion
3rd: 10s infusion. lid of the gaiwan has no fragrance at all. leaves have the typical green and smoke smell. The leaves have fully decompressed and are swirling in the cup, looks like fresh tea leave clippings. A little bitterness. the metallic note is gone replaced by a touch of sour that balances the bittter and sweet pretty well. ok mouth feel, same _almost_ lack of huigan. I have a feeling this is how the tea will taste the rest of the infusions. There is a lingering slippery smooth sweet coating on the center and tip of the tongue that is quite pleasant.
4th: 10s infusion. some very faint aroma has found it's way onto the lid.. bleh. About what I had expected otherwise. pleasant but unremarkable. I do really like that lingering slippery smooth sweet coating though, wish it was everywhere instead of the center/tip of tongue.
tails out about the 8th infusion, but is pretty much as the 4th just weaker.
I wouldn't buy this tea, my standards for green puerh are unfortunately spoiled by a few accidental finds locally and a couple of key samples from my tea teachers that have set me straight on what a green puerh can be. I don't know about the aging potential but the tea quality is there, although I suspect the rock like compression can't be good for quick aging. I suspect the price/quality ratio is at least in the ballpark, I usually just don't like most green puerh, I would drink this without complaining, the tea base was decent. I wish it had more complexity and more huigan, but like I said, I'm spoiled. The 2005 DaYi toucha from DHT I mentioned is a better tea IMO and about the same price/g.
2005 Jingmai Ancient Arbor Pu-erh Tea Cake
reviewed by
Salsero
Despite being elaborated in 2008, the
2005 Jingmai Ancient Arbor Pu-erh Tea Cake
at Puerhshop is purportedly composed of mao cha harvested in 2005, thus qualifying for the 2005 designation. Manufactured by Jia Mu Tong, it is a slender 250-gram cake that could be fairly easily disassembled with fingers alone, though I found it easier to attack with the puerh knife in order to loosen just enough for a single session.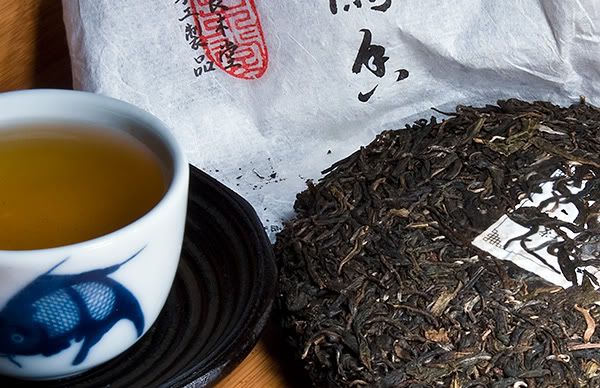 (Click photo for longer shot)
The basic masculine pu flavors: saddles, old smoking jackets, and back rooms. Quite pleasant, a bit of oil on the lips, some weight in the mouth, no chaqi to speak of, I didn't notice great hui gan this session (but I still have some sinusitis), just a little rough on the mouth occasionally, but mostly I found the tea soothing and rewarding. It was running out of steam by about the 7th infusion, so I might use a bit more leaf next time.
I've been drinking a run of these darker flavored sheng lately and they make me happy. For a while I was beginning to worry that all sheng had turned light with mushroom and straw flavors.
At $21 per 250-gram cake or 8¢ a gram, it is not inexpensive. At this point I think I would go first for Jim's
Jingmai Mountain Spring Puerh Tea Cake
at about half the per gram price.
2008 Premium Bingdao Arbor Pu-erh Tea Brick by Mengku Banmu
reviewed by
BearsBearsBears
http://puerh.blogspot.com/2008/12/2008- ... brick.html
2004 CNNP Old Tree Green Pu-erh Tea Cake
reviewed by
xerarch
6g in 6 oz gaiwan, 1 rinse.
In/out, then 20s, 30s. Golden amber, noticeably drying. Mild. A subtle sweetness, almost fruity? Continued with 20s, 30s, 1m.
On the one hand, no bitterness or astringency -- on the other hand: boring.
SAME CNNP CAKE
reviewed by
Silverneedles
http://tgfop.wordpress.com/2008/04/29/2 ... rhshopcom/
SAME CNNP CAKE
reviewed by
Salsero
Granted, if I had tasted this tea first, I probably would not have ordered it. There is no resemblance to the blockbuster Menghai, Hai Lang Hao, and Xiaguan productions I have been lucky enough to drink lately, but there are still some typical sheng tastes and sensations in this cake: wood, hay, a light background of mushroom and tobacco, all very low key. Infusions after the fifth were sweet teawater: a little thickness on the lips, light flavor and astringency, but compelling enough to drive me back to infuse again. All in all, for my own quirky tastes, I find this cake more satisfying than most (all?) Xi Zi Hao cakes I have had. In the next 4 years I suppose there is a risk that it will fade away to nothing, but I think there is a possibility it will grow into something still better. Meanwhile, I don't regret the purchase.
After the session, I realized I have had this tea before as part of the
Year of Green Puerh
tasting event last April.
2008 American Hao 0801 - Nannuo Old Tea, autumn materials
reviewed by
Salsero
OK, I took my Puerhshop
American Hao 0802
out for a spin. The one session I had with the
0801
did not inspire me much, but Bears' overall positive
post
gave me some hope.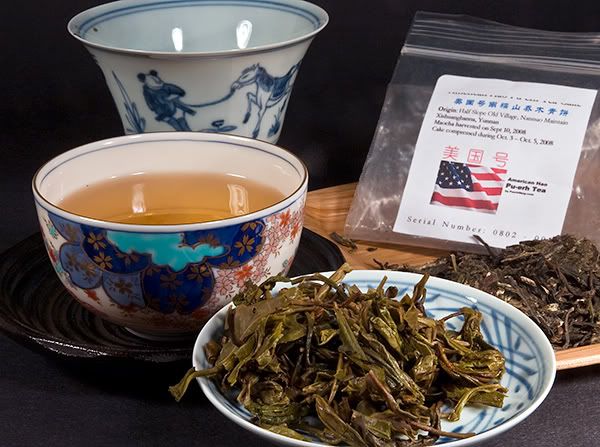 While I agree mostly with Hobbes'
sentiments
about products that invoke nationalist sentiments, I confess to some excitement about the idea of a Western produced puerh ... maybe calling it
Indiana Hao
or
Indianapolis Cha Wang
would have appealed more to me.
Setting all that baggage aside, however, my initial feeling in the first infusion was that it was too light to get my attention, but in subsequent steeps I succumbed to its charms. I found the tea to have a warm pinkish appearance, light flavor, quite good cha qi, some hui gan, especially for something so young. It was overall very smooth, balanced, and nutty, a little timothy ... or is it alfalfa? My experience was nothing like Bears ... maybe I need to use a heavier gaiwan or a pot.
I'll try a couple more rounds with this vendor sample. If I am still enjoying it this much, I will probably order a cake, maybe more for the novelty than the tea, but either way I expect I will enjoy it.
2004 Menghai Superior Grade, 2 oz. PS sample
reviewed by
Consilium
5.5 g in 150 ml yixing
15 sec rinse- 15s, 15s. . . . 5 min: total of 11 infusions.
Astringency - Little
Smoke - Some, mostly in the last few infusions
Dryness- High
Mouthfeel - Light, touching roof of mouth and tounge
Hui gan - Medium, flavor remains for several minutes.
Flavor - Elusive. Possibly melon, asparagus, kinda zesty and sweet
Aroma - Predominantly floral. Leaves, straw.
Overall value - $ 62 per cake currently; go with the sample (2 oz for $12).
Purchase again - I would if it weren't so expensive.
This tea held up consistently over the 11 infusions. Only toward the 8th infusion did I begin to notice a smokey aroma creeping out, which was pleasant after the very floral introduction. It truly does have a wonderful golden color that seems to last forever.
The qi was strong and noticeable, one of my first experiences of the kind. A penetrating heat could be felt in the shoulders, back, and head in random, brief flashes. The caffeine was also pretty high, and I was getting jittery after several cups. As I write this a couple hours later my heartbeat is still faster than normal.
Fun tea to drink, plus pretty tasty - I'd love to age a couple cakes if it weren't so costly.
2003 Dayi Yiwu Arbor
reviewed by
Netsurfr
Got a large sample of this from Puerh Shop.
Wow, compression on this was tight. I have not inflicted damage while separating pu yet but tight compression like this always worries me a bit.
Astringency - (slight)
Smoke - (some)
Dryness-(mouth) - (some)
Mouthfeel - (heavy)
Hui gan - (some)
Flavor - (excellent)
Overall value - (excellent)
Purchase again - (absolutley)
Smell of the liquor was woodsey with a hint of leather and some smoke.
Color of liquor was a deep amber with reddish tint.
Astringency tended to increase a bit with later infusions. Some floral notes also seemed to be present in later infusions.
So, that is about all this rather uneducated nose palate can tell you.
2003 Dayi Yiwu Arbor
reviewed by
Wesli
Green Tea Review blog
2007 Mengsa Arbor
reviewed by
Tomd
Complex and hard to describe
I think it could be very nice in a few years
2006 CNNP 5961 Red Label
reviewed by
tony shlongini
Patience not being one of my virtues, I cracked open the '06 CNNP 5961 red label.
It's a pretty looking bing, despite the apparent surfeit of twigs in the mix. Nice and flat, with no dimple. Tight compression, but the flat edge makes it easy to prise apart solid chunks.
After that, well...........
Not much going on here. Needs a lot of leaf and time to show anything, and when it does it's still pretty flat, lacking anything resembling "oomph". Not smoky and no odd flavors, but not many good ones either. Barely detectable huigan, and as for energy, chaqi's not in love.
This one is a shame- I wanted to like it, be it didn't reciprocate. Not one for the long haul, and fairly uselss for the short term, as well. Pass on this one.
CNNP 2008 Bulang Spring
reviewed by
shogun89
Well today my tong arrived. I ordered this tong through Puerh Shop after highly enjoying a cake I received for Christmas. I had the tong delivered for $60 flat. I was expecting a cheap paper wrapper but instead it was a beautiful bamboo that I could only dream of. Heres some pics of it along with a tasting. It is the CNNP 2008 Bulang Spring.
The cake is of pretty good material, and I believe it is stone pressed.
Brewed in a 130ml. yixing.
Aroma: The aroma comes off thick sweet like honey, tobacco and a slight smokey and floral scent. Very enjoyable, especially in the 2nd infusion!
1st; 8 seconds (its bulang, strong stuff)- Comes on thick with alot of flavor, it is well balanced and trails with sweetness and some bitterness. Very slight smoke which I tend to enjoy.
2nd; 15 sec.- Thicker than the first, fairly heavy astringency which I think will benefit its aging. Quite strong but still balanced. tobacco and leathery.
Overall I am quite impressed with the tea. It isnt the best I've had but the thing is it dosent break your wallet. I mean seriously $60 for a tong is incredible. Being Bulang it is obviously strong and thats why I bought a tong because I think there is some serious aging potential here. I would highly recommend getting a cake to try.
Various, including 3 tongs!
reviewed by
Drax
Let's see, that's a tong of the 8848 stuff on the left, the 2008 CNNP Blue Print in the middle, and the 2007 Bulang Spring Buds on the right.
Also picked up two beengs each of a Yongpinhao (left and middle) and a 2007 Bulang Spring Tips (not to be confused w/ the Spring Buds

).
Anyway... into the pumidor it goes...!