Padre,
In response to your blockbuster film epic
http://www.youtube.com/watch?v=-y5A8kUTK6Y
Here's how I hold the lid while I pour. Actually, it turns out I use my thumb.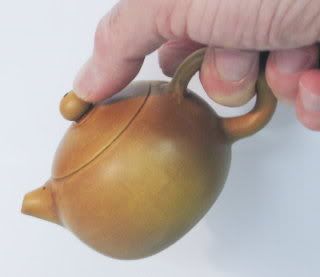 (Any blur is the result of my
lightning fast technique
and in no way due to my 14-year-old son's lack of enthusiasm for documenting his father's eccentricities.)
When I want to up the ante a bit and clear that tea out quick, I lift the lid to let more air in and the pot empties much faster.