Hey All,
Tried the Fu tea yesterday
http://www.puerhshop.com/index.php?main ... cts_id=582
and here's my thoughts- remember now, I was looking for an "adventure"

Got the brick and looked at the packaging. It has Asian characters on the front and what looks like Arabic on the back (can someone explain that?). The first thing I noticed was what looked like a piece of used dental floss laying on top of the brick. Always nice to find surprises in things, huh?
The brick was very dry and easily crumbled. It's a mix of green, black and brown and has very large twigs imbedded in it. Not just tea leaf stalks, there's plenty of those too, but large sticks close to an inch in length.
Jim says in the description that it's fermented, but it doesn't appear to be. More like a sheng than a shu. Since I had no way of knowing how to brew this up, I tried two different ways- both "western" style with differing times and water temps. I used 6 grams of tea for my 2 cup tea pot and brewed the first batch like I would a green tea (180 degree water for 3 minutes). That infusion and the picture of the tea and Arabic writing is shown below: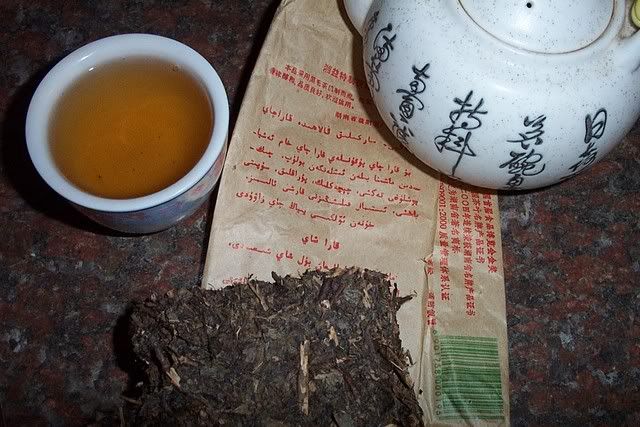 The second brew was also 6 grams with boiling water and a 6 minute infusion. Surprisingly, it wasn't a whole lot darker than the first. That infusion and the spent leaves are here: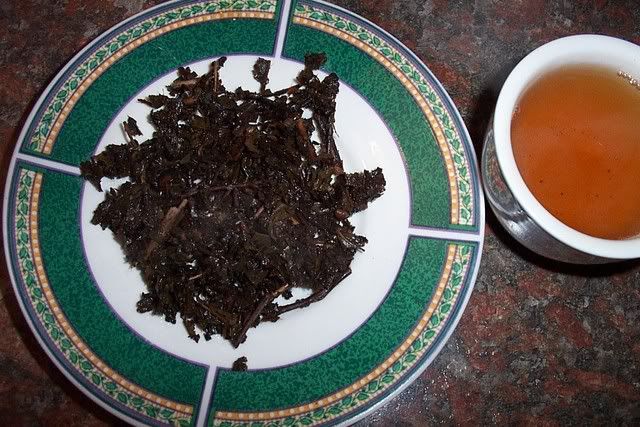 In the spent leaves, there are NO whole tea leaves, just tiny pieces of leaf along with the sticks and stems. It actually looks like a plate of collard greens to me.
Now, to the good stuff: Both infusions were much better than I expected. I think the lower water temperature is the way to brew it, though. Both brews were very mild in flavor and aroma, with almost no bitterness but a touch of that "buttery" taste that can be found in some teas. The longer/hotter infusion actually took on a slightly salty taste that I didn't find in the first infusion. Both infusions became noticeably sweet after they had cooled to room temperature and my kid (who tries all my teas) said he wanted us to make up some sweet iced tea with it and it passed his test at least. I'll wait on some more aging and see what happens, but right now it's typical (overall) of the inexpensive young sheng I've tried- at least compared to the shu that I usually drink.
It was a fun purchase, but not something I'd ever order again. This brick will last me several several years...
EW