Ten Years of Aging
One of the intentionally aged teas, Pu-Erh has a loyal following.

6 posts • Page 1 of 1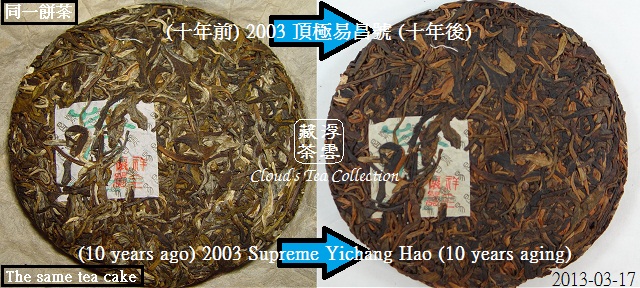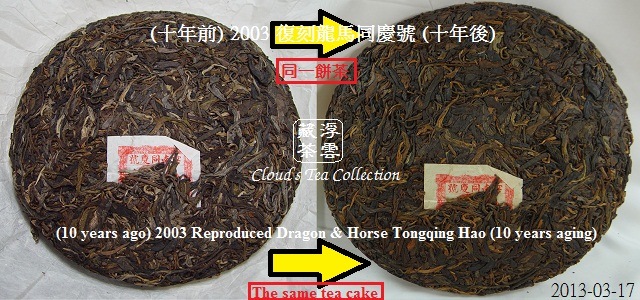 I just uploaded 2 photos for your reference. You will notice how a tea cake aging over 10 years time.

In fact, these photos should be published exclusively in my future Puerh books, if any. Anyway, I just want to share these with you at this moment.

Have fun with Puerh tea.
Cloud (HK)
Posts: 10
Joined: Jul 6th, '0
Location: Hong Kong
---
Thanks for sharing. I am curious how are they are stored. Appreciate if you could share on the storage condition. Is it the same condition as described in your book? The top piece looks more reddish after 10 years compared to the bottom.
Also would be interesting to see the the brew colour and some comments on the taste.

Thank you.
Posts: 719
Joined: Jan 5th, '1
---
Wow thanks for sharing. I'd also like to know how these were stored.

It looks like white tips turn red... is that a thing?
Posts: 719
Joined: Feb 12th, '
Location: South Bronx, NYC
---
Interesting post Cloud! Here is one my Horse Dragon (Longma) Tongqing cakes from a few years later, with more traditional storage. Interesting to compare the color
Vendor Member
Posts: 512
Joined: Mar 19th, '
Location: Frequently Moving Around
---
Excellent comparison, thanks for sharing the visuals!

I wish I had taken more pictures in the beginning of my tea journey than I actually did... hmmmm.
Posts: 2825
Joined: Oct 16th, '
Location: Arlington, VA
---
Turns out I did have some photos... thanks for the inspiration, Cloud!

The progression that you are seeing is really quite lovely. I hope that the taste is changing to match!
Posts: 2825
Joined: Oct 16th, '
Location: Arlington, VA
---
---
6 posts • Page 1 of 1